SINGER MAYBERRY – Mayan Yoga Adventure with Singer
When:
January 26, 2019 – February 2, 2019
all-day
2019-01-26T00:00:00-05:00
2019-02-03T00:00:00-05:00
Mayan Yoga Adventure with Singer
January 26 – Feb 2, 2019
Next winter, venture out to a semi-tropical paradise often called "the land of eternal spring." Hit the reset button after the holidays with a peaceful getaway to the picturesque shores of Lake Atitlán in Guatemala for a week that will nourish your body and soul. Yoga, culture, adventure and relaxation await you at the gorgeous property of Villa Sumaya, where we have reserved the most luxurious lakefront suites to house our group.
Surrounded by three dormant volcanoes, Lake Atitlán is believed by the Maya "to be the center of the universe where God's seeds of mankind evolved." Start this adventure when you arrive by boat from Panajachel to the private dock at Villa Sumaya. What awaits will be a magical experience like no other, starting our week off with a Cacao Ceremony followed by a Mayan Fire Ceremony.
Relax with Singer Mayberry of The Art of Yoga School in Austin, Texas, as she leads us through eight days of yin, hatha & restorative yoga tailored to all levels – the perfect way to balance out active hikes and bird watching expeditions. By the end of the week you will feel stronger and healthier just from the 100+ steps you will be taking daily to reach your on site accomodations. Looking for more action? Schedule a 7 hour tour climbing San Pedro, the tallest of the three volcanos or kayaking towards a quaint village nearby. But of course, be sure to allow time for lounging in a hammock, spa treatments, swimming or just enjoying the lush grounds.
INCLUDED IN COST
7 Nights Accommodation
3 Vegetarian Meals a Day
Unlimited tea/coffee/filtered drinking water
Mayan Fire Ceremony
Cacao Ceremony
Daily yoga classes with Singer
Use of Villa Sumaya's pool & hot tub
Taxes
ADD ON ACTIVITIES:
Traditional Sweat Lodge Ceremony
Kayak Paddle & Hike Tour
Volcano Hike
Bird Watching
Spa & Sauna Treatments
Local Market & Shopping Tour
+ more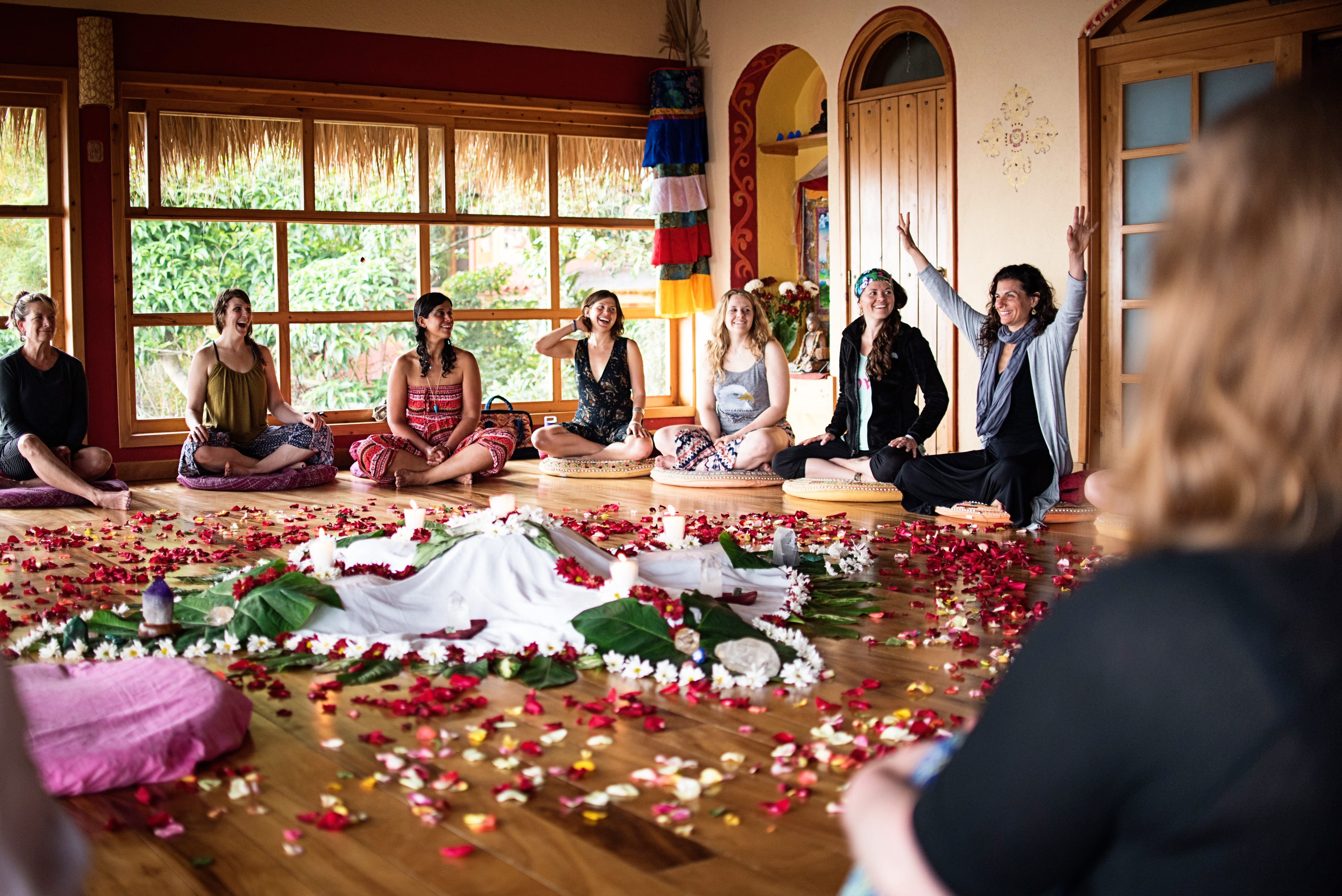 ABOUT SINGER MAYBERRY
Singer's passion is teaching Restorative & Yin Yoga, while also being an active musician in her hometown of Austin Texas. Teaching since 2012, she owned her own yoga studio for 5 years and has over 1000 hours of teaching experience (E-RYT 200). Her background as a musician and artist leads her to create inspiring yoga experiences for her students. Always paying attention to the details, she finds value in "curating" everything from music playlists, to incorporating the use of essential oils & smudging to help even out the energy in her classes.
"To me, Restorative Yoga is all about relaxing the mind by practicing gentle stretching sequences that will also make your body feel great. It is such a welcoming practice, because everyone can benefit, wherever you are in your yoga journey…all levels of experience are welcome. As a student in my classes you will enjoy the incorporation of essential oils, smudging with sweetgrass and sage, calming music, and hands on assists to help you relax to your fullest.
The practice of yoga has brought balance to my life, nurturing my body, mind and soul. My practice helps me to live in a state of calm and consistency, even during times when my life seems utterly chaotic. Through my classes, I hope to share many valuable moments of calmness and clarity, encouraging balance in all of my students lives."
Singer has a degree in Fine Arts, majoring in Classical Guitar & Mesoamerican Art History. Her first official 200 hour training was with Sumukhi Kristina Lanuza and Zoe Mantarakis of Yoga Illumined in 2013. Since then she has furthered her studies of Yin Yoga with Heather Tiddens in 2015, and completed Judith Lasater's Level 1 Restorative Yoga Certification Program in 2016 while currently taking courses with the The California College of Ayurveda.
PRICING & REGISTRATION
$150-250 DEPOSIT TO RESERVE YOUR SPOT
Monthly installments start 30 days after non-refundable deposit is paid*
SIGN UP BY AUGUST 1ST AT THE EARLY BIRD RATE & SAVE $300
Early Bird Rates start at $1450-1795 per person (Single, Double or Triple Occupancy)
We have reserved the most luxurious lakefront suites to house our group,
To learn more & to register, visit www.theartofyogaschool.com
Questions? Contact Singer:
WHAT COSTS ARE NOT INCLUDED:
Airfare
airport transfers ($35-$100 per person with private transport)
arrival and departure boat trip ($25 for up to 4 people on private boat)
spa services
additional excursions
gratuities (approx. $5-$7/day)
travel insurance
THE RETREAT BEGINS SATURDAY JANUARY 26 WITH DINNER AND ENDS SATURDAY FEB 2 WITH BREAKFAST
Transportation is NOT included in the pricing. HOWEVER, if you would like for us to plan your transportation from the time you land in Guatemala City (or Antigua if arriving a few days early) to when you arrive at Villa Sumaya, we are offering a $200 transit fare that will include:
A private vehicle to travel with the retreat group from Guatemala City or Antigua to Panajachel
Boat ride from Panajachel to the Villa Sumaya dock
Returning to the airport after the retreat: your boat ride and private van directly to the airport will be included.
Reviews for Yoga with Singer
"This is the Vahlrona of restorative yin yoga: complex layers of richness within a simple format, indulgent in sweetness. I have never had a more poignant, nurturing and caring yoga experience. Singer has an exquisitely transformative touch that luxuriates with love and attention. Sophisticated playlist, art, and incense too." – April 2016, Victoria Tai
"I've been taking Singer's restorative yoga class on Sundays for the past year and they have transformed my life. They have forced me to slow down, be still (which I'm horrible at!), and be okay with being with myself." – February 2017, Raman Sandhu