Extended Teacher Education 2021 / Kali Kennedy
January 8 - 15, 2022
This Extended Teacher Education course is geared toward those who have already completed a 200-hour training. Enjoy the volcanic mountains of Lake Atitlan and at Villa Sumaya while practicing yoga and meditation daily. We will focus on growing our teaching tool kits and strengthening our foundation. Devote one week to continued education and gain new, valuable skills in leadership, community, and creative development.
You will come out of this training with:
Further understanding of safe alignment and hands on assists
Direct community feedback to help your teaching practice grow
A deeper understanding of business branding and development
Practice teaching in areas where you desire more experience
Practice with workshop development and content creation
A reignited drive to grow and nurture your yoga offerings
Serious, relevant conversation in the yoga profession
More direct experience with yoga specializations
A sense of community among yoga teachers
Continued support and mentorship
About the Teacher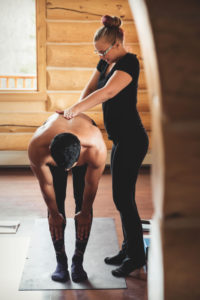 With a deep affinity for meditation and a background in dance and athletics, Kali completed her initial yoga trainings in 2010. Since then she has been teaching vinyasa styles, hatha, bikram sequences, restorative, and trauma-informed practices. On a quest to eliminate her own back pain, she completed a back-care therapy training in 2015 and now develops classes with the Yoga Wall, a popular Iyengar tool to aid in decompression and alignment. Kali leads semi-private, specialty classes in addition to booming hot yoga classes and has over 3500 hours of on-the-ground teaching experience in studios, gyms, recovery centers, and international retreats.
Inspired to share the philosophy of yoga, Kali created The Devotional School of Yoga, a school that offers a balanced curriculum for both the physical (postures, body) and nonphysical (meditation, philosophy) aspects of the yoga practice. She has loads of fun planning destination trainings and loves guiding others through an in-depth study of yoga via immersions, focus workshops, and popular weekly classes. Kali is passionate about continued education, exploring more effective teaching strategies and yoga methods to share with you.
When Kali is not a traveling girlboss leading destination trainings in places like Guatemala, she is holding down her home yoga studio as lead instructor and studio director. She has a team of 25 wonderful yoga teachers at a hoppin' downtown studio in Tucson, Arizona. Kali enjoys building new workshops, special events, and hosting monthly donation classes to benefit humanitarian efforts within our community. In her free time, Kali likes to nurture lifelong friendships, spend time in nature, and enjoy stand up comedy at local places of laughter.