Writing Down the Chakras
with MICHELLE MARGARET
Package Dates
Immerse yourself on the path of beauty at Lake Atitlan in the Mayan highlands of Guatemala for a week of mindful yoga and writing practice.
"Write what disturbs you, what you fear, what you have not been willing to speak about. Be willing to be split open." ― Natalie Goldberg, Writing Down the Bones: Freeing the Writer Within
Experience the seven chakras through the embodied practices of yoga and writing. Discover tools and techniques to heal, balance and align each chakra energy center.
Both the upward current and downward current of energy must be open and flowing for us to be optimally healthy and whole. As Anothea Judith writes in The Wheel of Life, "The liberating current brings us excitement, energy, and novelty, while the descending current brings peace, grace and stability."
There are seven major chakras in tantric yoga philosophy. Through the lens of our seven chakra energy centers, we'll clarify our vision, purpose and truth by tapping our creative flow to inspire new growth.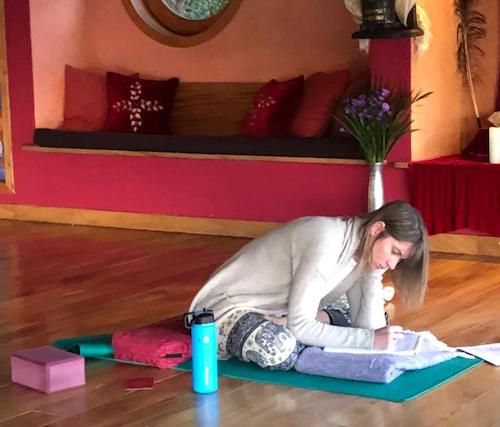 In a one-on-one or small-group setting, we'll tune in to our energy and intuition through the guided practices of yoga, meditation, and writing. Align with your heart's deepest desires and live with purpose, trust and presence from the heart. Sharing is always encouraged and optional.
"I write because I am alone and move through the world alone. No one will know what has passed through me… I write because there are stories that people have forgotten to tell, because I am a woman trying to stand up in my life… I write out of hurt and how to make hurt okay; how to make myself strong and come home, and it may be the only real home I'll ever have." ―Natalie Goldberg
Take home healthy habits and empowering practices that will enhance your personal wellbeing and nurture your intuitive intelligence.
Our Retreat Center
Villa Sumaya is a majestic site for healing, regeneration and relaxation. Located on the shores of Lake Atitlan in a quiet bay, the center is full of lush gardens, secluded hammocks and lounges and gorgeous indoor and outdoor temple spaces.
Featuring a full-service spa, vegetarian restaurant, bar, apothecary, boutique, sauna, pool, hot tub and much more, this amazing space is a spiritual light generator that has been hosting retreat groups for over 18 years.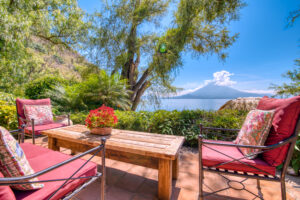 Daily Flow
8:00 Breakfast
9:30-11:00 Yoga & mindfulness group practice
1:00 Lunch & free time
4:30-6:00 Writing down the chakras workshop
6:30 Dinner
Day 0: Arrival
Day 1: Root & Crown Chakras
Day 2: Sacral & Third Eye Chakras
Day 3: Solar Plexus & Throat Chakras
Day 4: Heart Chakra
Day 5: Free day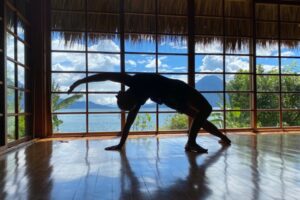 Day 6: Chakra Flow and Integration
Day 7: Departure
What's Included
5 morning yoga and mindfulness classes
5 afternoon yoga and writing workshops
Mayan fire OR sweat lodge ceremony
7 nights of accommodation in a beautiful room (private and shared options available)
Amazing vegetarian meals and unlimited self-serve local Guatemalan coffee, herbal tea and drinking water
All taxes
Not included: transportation costs, suggested tips to Villa Sumaya staff, optional spa treatments or other ceremonies and activities
Investment
Private room: $2,022 USD
Double room: please inquire for discounted rates if you're bringing a friend and sharing a room
A 50% deposit is required to hold your space.
Leader