Agni Soma / Sean Tebor & Munay Halfon
November 13 - 20, 2021
Agni invokes primordial, elemental fire. Soma connects us with the primordial waters from which all life is born. Lake Atitlan is a magical place – a naturally formed lake held by three volcanoes in the Mayan highlands of Guatemala where Agni and Soma are held in beautiful balance.
"Atitlan" means "at the water – the place where the rainbow gets its colors". It is a powerful portal through which we can enjoy a deeply cleansing and revitalizing infusion of elemental essence.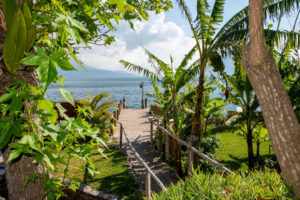 Villa Sumaya is a sublime retreat space on lake Atitlan in Guatemala where we will share our passion for conscious living – primal movement, dance, deepest nourishment, and always the immersion into personal inspiration and discovery. Empower, reset, revive and play.
About the Leaders
Sean Tebor 
Sean is a guide of conscious embodiment and an inspirer of deep living. Working through the traditions of yoga, martial arts and a lifelong passion for moving, he considers it a gift and responsibility to be in a position to support the change and evolution of the landscape of the human experience in a new paradigm shift towards core-centric, conscious-animal articulation, and the fullest realization of the Breath of Life. For Sean, these are some of the deepest forms of prayer.
Sean specializes in yogic translations of primal movement and locomotion, unpatterning, repatterning and therapeutic application of moving posture, intramuscular strength training, personal and group retreats, nutrition, breath awareness, and hugs.
Munay Halfon 
Munay is a modern-day mystic and explorer of energy. Her dance is an inspiration to move as one with Nature, with ORIGIN, free of our old patterns – youthful and timeless. Munay is gifted with a profound capacity for reflection and holding sacred space, where her sensitivity and emotional intelligence support our deepest work.Munay specializes in dance, cranio-sacral therapy, the Tarot, working with souls of all ages in rites of passage, women's blood mysteries, personal and group retreats, finding the special places on planet Earth that nourish and inspire, and most of all, Chocolate.