Discover the Potential Within: A Spiritually Rich Yoga Retreat / Laura Abbott-Coan
July 17 - 24, 2021
A journey through your self to your SELF- a spiritual immersion mixed with some serious and sacred YOU time!
If you're yearning to open your heart, explore your mind, and discover a map of your landmines and treasures that lead to your potential, join Laura for a spiritually rich yoga retreat on the shores of Lake Atitlan.
Soak up the energy of the land and water of Guatemala, take some much needed time away from a busy life, and nourish yourself with breath centered yoga asana, pranayama, chanting, meditation, and ceremonies led by natives. We all have the ability to know ourselves deeply, and yet life can get in the way. The magic of the lake, our yoga practices and ceremonies will support the journey we will take together over the next 7 days. By the end of the week, through inner and outer experiences, you will have relaxed and rediscovered yourSELF, and been given tools to tap in to your stability, enthusiasm, transformational power, love, expression, and inspiration that will be a source of guidance for the rest of your life.
Rates
Triple Occupancy $1799
Double Occupancy $1999
Single Occupancy $2199
About Laura
While lying in savasana many years ago, I felt the most amazing feeling in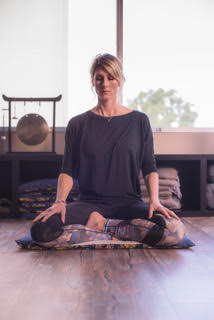 my body, and my mind was completely absorbed in the ebb and flow of breath. I realized I was home. This place that felt so comfortable and nurturing was within me and within my reach. It was the beginning of a journey that continues today. I have trained with many notable teachers including Tias Little, Rod Stryker, and most recently and currently Gary Kraftsow, as well as many other teachers along the way. I am 500hr E-RYT and Yoga Therapist certified through IAYT, and Ayurvedic Lifestyle Counselor
I am a mom of two energetic boys, a step mom to a gentle young woman, and wife to a wonderful husband. I'm stinkin' busy! My lab and "mini me" chihuahua have soul in their eyes that remind me how to live vibrantly and simply.
I've realized over time that each moment is a decision that creates the next, and I have the ability to create, not only the feeling that I experienced so many years ago in savasana, but the ability to manifest abundance and joy through simple and effective practices. I want to share with you the art of practice to empower you to live a happy, healthy and connected life.