Adventure For Your Creative Soul Women's Retreat / Aimee Hansen & Marianne Richmond
April 26 - May 1, 2020
Take your creative soul on a trip to the exceptional volcanic beauty of Lake Atitlan, Guatemala. Bathe in the inspiration of mountains and lakeside atmosphere as we gather for a week of multi-faceted creative expression in a women's circle, alongside cultural and active exploration from the spectacular secluded cove location of Villa Sumaya.
During this retreat, we'll loosen resistance, expand awareness and experience the lightness of spontaneous soul play. We'll practice meditation, yoga and dance. We'll express through writing and visual art and more. We'll gather for diverse ceremonies and enjoy excursions on the lake.
No experience is required and all levels are welcome. Together we'll re-ignite and embolden the creative spirit that lives within each of us – restoring our sense of clarity, connection, and vitality.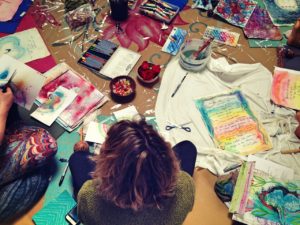 "If you're alive, you're a creative person."
-Elizabeth Gilbert
"Yes, I believe self-expression is the soul made visible."
-Marianne Richmond
Adventure For Your Creative Soul:
How often have we blocked our own expression? Held our tongue? Hushed the muse? How many times have we dismissed ourselves as "not creative"? Or been too intimidated by a creative project to start?
How often do you allow yourself to play in spontaneous creative flow? Have you ever taken a trip solely to reconnect with your inherent creative essence?
We can easily make – and often do –  everything more important than allowing space for creativity. But our creative soul still yearns, beckoning our awareness to be heard, nourished and expressed. When we mute or dismiss our creative longing, we block divine life energy – feeling closed, dull and contracted. When we embrace it, we become more open, bright and curious.
In this women's retreat, you will: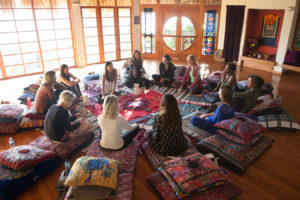 – Gather with a beautiful circle of inspiring women who value truth, vulnerability, laughter and connection.
– Loosen the blocks that have separated you from your creative flow. Invite back the joy of creativity.
– Reconnect with your intuition through presence and play.
– Open your energetic channels to insight, inspiration and freedom through meditation, writing and art.
– Discover how to move with the muse, as you animate your body through yoga and dance.
– Remember your innate and embodied creativity.
– Deepen your connection to your inner space of peace through participation in ceremonies.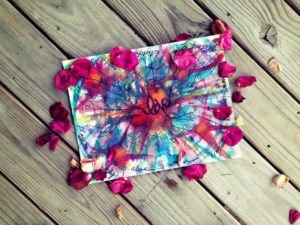 Inspiring lakefront location with expansive volcano views
Daily yoga or movement practices
Daily creative circles – writing, visual art, and more
Co-facilitated with Marianne Richmond, best-selling children's book author/artist
Scenic lake-side thatch-roofed yoga temple & writing space
5 nights stay in shared or private accommodation
3 delicious organic vegetarian meals/day and juice bar
Sacred Ceremonies – sound, Mayan fire, and more
One cultural and one active lake excursion
Solar hot tub and on-site spa services
Breaks for swimming, massage therapies, sauna, relaxing
Intimate Women's Gathering: Maximum of 12 participants
Your Facilitators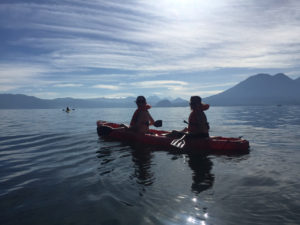 Bestselling author Marianne Richmond, creator of more than 50 children's books, and Aimee Hansen, creator of Storyteller Within Retreats which have been recommended by Lonely Planet, will co-facilitate this inspiring retreat, alongside other guest facilitators that will join through the week.
Aimee reached out to Marianne years ago and we connected through a mutual appreciation for creativity, emotion and heart-led expression. We are excited to co-create magic with you in this place Aimee calls home!
Find out more and reserve your space: https://www.thestorytellerwithin.com/april2020