Shamanic Sound Bath: A Harmonic Attunement – Online Session
With ASTARIA LIGHT
Open Dates
This online harmonic energy-activated attunement is a healing sound immersion custom crafted to your needs. You'll be guided to communicate your personal goals before relaxing into a receptive state to receive your sound bath. Astaria will use her intuitive wisdom and angelic voice along with a collection of crystal bowls, native flute, gongs, hand drum, chimes, and tuning forks to sweep you away on a shamanic journey. You will experience a profusion of vibrational sound waves that will help you release stored tension, outdated stories and emotional baggage, while simultaneously balancing the nervous system and the chakras. You'll reconnect with your innermost guide and realign with a peaceful state of uplifting clarity. Allowing the harmonic intelligence and the power of shamanic healing to sweep away all that no longer serves, you will return refreshed, rejuvenated and inspired to expand into your full potential.
This 2-hour session includes about 15 minutes of introduction and personal connection as well as a 15 minute integrating closure.
Astaria's sound bath ceremonies were a cornerstone of innovative ceremony at Villa Sumaya. Due to their popularity we are now bringing this heartfelt offering on line. Astaria brings 20 years of sound healing exploration and a gift as an intuitive healer to her personalized online ceremonies. Ideal for 1-2 people.
*Please ensure that you have an adequate internet connection and access to Skype or Zoom before registering. We are unable to process refunds for this offer.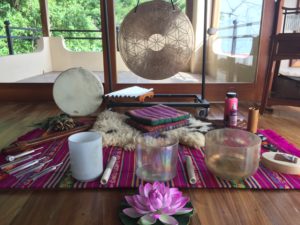 --