Guatemala Yoga & Mayan Culture Immersion Retreat / Loren Lotus & Ryann Tillman
April 10 - 17, 2021
Experience the magical land of Lake Atitlan, Guatemala for a week retreat of yoga practices and Mayan culture surrounded by a vortex of volcanoes. Guatemala is a land of vibrant life, filled with lush vegetation and tectonic activity. Lotus Retreats is traveling to the Sierra Madre mountain range deep in Central American for a full immersion of Mayan culture & Guatemalan nature.
"Atitlan" in Nahuatl means "the place where the rainbow gets its colors." This mystical lake is often called the most beautiful in Central America and has inspired people for thousands for years.
Surrounded by a vortex of volcanoes, Lake Atitlan is known for its healing and mystical properties that seekers and believers feel upon arrival. The lake lies in the heart of an ancient volcano's caldera, which filled with water after its final eruption 85,000 years ago. The lake and its three surrounding volcanoes still hold active tectonic power and people travel from around the world to feel the energy vortex created here at the intersection of Fuego de la Tierra and Paz del Lago.
Accommodations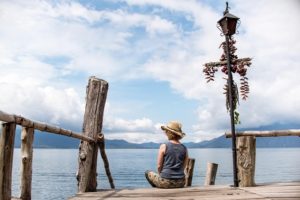 Dive deeply into the refreshing natural beauty of Lake Atitlan's stunning landscape. Within the vast, majestic horizons, you'll find a deeper connection with your heart's song and a rejuvenated sense of wellbeing.
Our retreat will be hosted at Villa Sumaya – a retreat and wellness center located in Santa Cruz la Laguna, Lake Atitlán, Guatemala. Villa Sumaya is dedicated to rejuvenating holistic practices and healing modalities as well as preserving Mayan traditions and facilitating outdoor adventure in the heart of the Altiplano. Majestically located on the shores of Lake Atitlan, this retreat oasis has a dock for sitting along the shore as well as a pool overlooking the waters.
Retreat into each of the elements; along with the lake and pool, hot tub, sauna & massage therapies are available upon request. The solar-heated, stone hot tub oasis is tucked above a garden lounge. For a detoxifying sweat, indulge in the electric sauna; or request a Chichimeca Sweat Ceremony in the custom-designed lakefront sauna.
Each of the rooms at Villa Sumaya provides a lake view. The rooms are spread throughout the property in cabins & houses with private rooms. Each room also has a private bathroom. Some rooms are lakeside, while the larger suites are higher up and require stairs to climb!
What's Included
8 days and 7 nights of accommodations at Villa Sumaya retreat center in Lake Atitlan
3- vegetarian meals a day (vegan, gluten-free, dairy-free options available)
2- yoga classes a day (Hatha, vinyasa and yin/restorative styles)
3-workshops throughout the week
Transportation to/from Guatemala City airport to Villa Sumaya Lake Atitlan retreat center
1-Spanish lesson the first day (option for an additional 4 lessons for the entire week!)
Group Mayan fire ceremony
WHAT'S NOT INCLUDED:
Flights to/from Guatemala City
Travel Insurance
Additional excursions & activities
Spa services
WIFI (can be purchased for $3/day or $20/week
Laundry service (can be purchased for $3/pound)
Tips for resort staff & services
Teacher Bios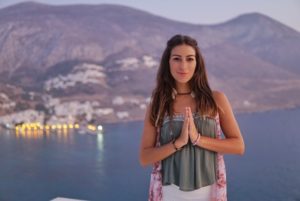 Loren is a devotional curator whose true love and passion is sharing the beauty of the world and the unity of Yoga with all of those seeking it. She is continuously inspired by Yogic teachings of our everyday life and the practice of Yoga, on and off the mat. Every day is an opportunity to grow & live your life like a Lotus flower, reaching your true potential and fulfillment.
Loren believes her dharma and work is to inspire others to live a fulfilling life path with purpose and passion. On the mat, she teaches a variety of Yoga class styles including Vinyasa, Hatha, Restorative and Yin. Her alignment-based training and study of Kinesiology has fueled her fascination with the human body, mind and eternal soul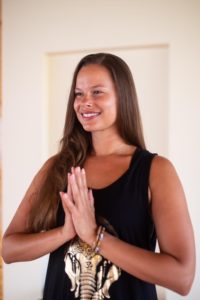 Ryann believes that yoga has the power to positively transform our lives. She earned her 200 hour yoga teaching certification while living and studying in an ashram in Mysore, India. She traveled to the birthplace of yoga in search of a traditional and authentic yoga education and experience. Once back in the states she became a full time yoga teacher and never looked back.
She teaches a Hatha inspired class with an emphasis on breath, awareness, and body control. She aims to make each class feel steeped in Indian tradition and lineage. After a few years of teaching she decided that it was time to drive deeper into the transformational healing side of yoga and expand her knowledge as a teacher and student. She earned her 500 hour teaching certification in the magical jungles of Costa Rica with Passion Yoga.
Since her time in the jungle Ryann still teaches classes full time and teaches in yoga teacher trainings. Her path also led her to Fascial Stretch Therapy(fst) as a way to help speed the physical healing/recovery process and flexibility that yoga offers. With yoga and FST Ryann has a passion to guide people towards a more connected, positive, and healthy life.