Inner Harmony: Awakening through Sound
with ASTARIA LIGHT
Package Dates
Join us on a journey into light through sound as we explore the ways that this vibrational healing modality relaxes our nervous system, calms our mind, and invites us into deeper harmony with ourselves and the Earth.
Deepening the silence within, we learn to listen to our inner voice. Discovering the clarity of our truth, we'll feel rejuvenated and inspired to live in alignment with our heart's path.
We'll dive into the art of practice by exploring the use of sound activation using voice and a variety of vibrational healing instruments including crystal bowls, flute, medicine drums, chimes, gongs, and tuning forks.
Connecting with the beauty of nature and the transformational vortex of Lago Atitlan, a.k.a. Atitlantis, you'll encounter parts of yourself in the mirror of the waters and awaken through hearing the sounds of your soul.
Uplift your energy, ignite your heart, find your center and discover inner harmony by immersing in the power of sound, cacao ceremony, and intuitive movement to bring you into spiritual attunement.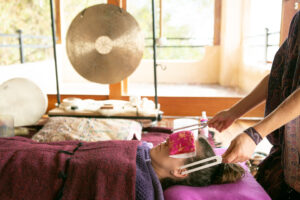 Rates & Registration
Pricing: $1,850 single in deluxe accommodation / $1,500 per person in deluxe double accommodation
To learn more or sign up, please email reservations@villasumaya.com.
Leader