200-hour Yoga Teacher Training in Guatemala / Yoga East West
October 4 - 23, 2021
All-Inclusive Yoga Teacher Training.
Voted Best Overall
Yoga Teacher Training 2019 by FindYoga.
The thought of practicing yoga and truly connecting with others might seem like a distant fantasy, but it's finally time! We've gone to extraordinary lengths to make sure this is safe and accessible for students all over the world.
Travel to one of the most beautiful natural areas of the world and surround yourself with all things yoga & high-frequency living. In this 3-week journey, you'll be surrounded by nutritious vegetarian/vegan food, a regular daily yoga practice, and inspiring spirit guides from all walks of life. You'll be guided to do deep personal work as you set new foundations for your life, build around true inner harmony and professional excellence.
This teacher training in Guatemala is for those looking to apply the principles of yoga to every area of their life, not just teach in a studio. You will gain a strong foundation in the tradition and techniques of yoga necessary to competently teach at a 200-hour level, and go significantly deeper. Held at a majestic retreat on Lake Atitlan in the Guatemalan highlands, this training is a yogis dream.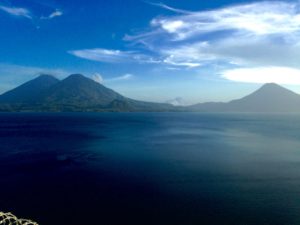 The East+West ®200-hour certification course provides students with a strong foundation in yoga asana, including alignment, anatomy, adjustments, and modifications. The yoga style is a combination of traditional Hatha and modern Vinyasa, weaved together with the science of physiotherapy to give students a strong foundation that can be applied to any teaching style. But it also goes much, much deeper. You will explore the many dimensions of the yogic philosophy and lifestyle, helping students see the world through the eyes of the ancient yogis.
We carefully designed this training to inspire not just yoga teachers, but yoga leaders. A yoga leader is someone who builds such profound health and happiness within themselves that it naturally flows out to others. We train our students to deeply respect the integrity of the practice, and to discover the application of that in their own unique way. A yoga leader demands respect from everyone in their community. You'll leave this course with a certification from the International Yoga Alliance to teach yoga, and with practical tools to actively balance your life and the lives of others.