Journey Into Sacred Expression Women's Writing & Yoga Retreat / Aimee Hansen
July 31 - August 9, 2021
Rise from within and together with this Lonely Planet recommended women's writing retreat in a luxurious space on Lake Atitlan. Breathe and relax into lakeside comfort as we gather for a magical and soulful week beneath the watch of volcanoes.
Join a very intimate sacred circle of women in the spirit of reclamation for a creative inner adventure through meditation, yoga, magical ceremonies and self-exploratory writing at Villa Sumaya in Santa Cruz, Guatemala.
You are invited to take a brave and honest journey into your center to connect with your intuition and express from your core. To unravel the ways you have learned to limit or deny yourself and to embrace and truly value the raw and desirous beauty of your embodiment. Within each of us is the call to open our hearts, step further into our courage, expand our acceptance of self and animate our own sacred expression.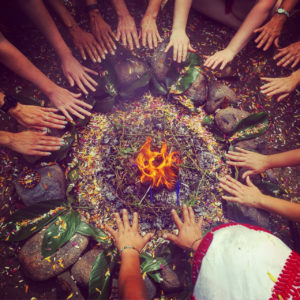 A stunning location
Cradled by rural highlands and lush forests, Lake Atitlan is a breathtaking beauty framed by three majestic volcanoes. The lake is known to attract travelers in search of soulful reconnection.
Resting in a secluded lakeside cove, Villa Sumaya is an eco-chic sanctuary dedicated to rejuvenation, holistic practices, and preserving Mayan tradition.
This gorgeous location offers expansive views, inviting and comfortable accommodation, delicious and nurturing slow-food meals, juice bar cafe, on-site spa, solar hot tub, fair-trade boutique and wood-burning sauna in unparalleled natural surroundings.
Villa Sumaya is an eco-friendly wellness center perfect for self-care, refreshing perspectives and renewing energies.
Retreat highlights
Inspiring lakefront location with expansive volcano views

Daily morning guided meditation & yoga practice

Two self-exploratory writing circles on most days

Scenic lake-side thatch-roofed yoga temple & writing space

9 nights stay in shared or private accommodation

3 delicious organic vegetarian meals/day and juice bar

5+ sacred healing ceremonies (eg. Mayan Fire Ceremony, Sound Healing, Cacao, Dance & Movement)

Solar hot tub, pool, jacuzzi and on-site spa services

Breaks for swimming, hiking, kayaking, therapies, sauna, relaxing

Optional off-site excursions (village tour, adventure)

Intimate Women's Gathering: Maximum of 12 participants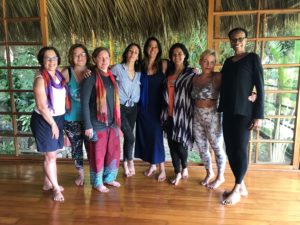 Women's sacred journey
Set out on a transformative creative and spiritual journey through daily meditation, yoga and self-exploratory writing as a channel to reveal insight from within. Participate in healing ceremonies that help to call your spirit and stoke your soul voice.
Breathe, stretch, relax, and connect with your center while sharing in the experience with other women. This retreat is not about 'writing' as a subject or art form. In this retreat, we ourselves are the art form. Every woman has a voice in her own life – we are gathering together to rise it up and own our self-expression.
Inspired by the four shamanic directions and rising the feminine, we embark on a revealing week of re-igniting the voices of our hearts and empowering ourselves as the storytellers of our lives.
Sample daily flow
Guests arrive on Saturday, July 31st afternoon to relax and settle in. We'll open our circle in the evening after dinner. Our daily flow will begin on Sunday, August 1st.
Here's a sample schedule. Please note on two days, we will have only one writing circle to allow some space for excursions.
7:00-8:30 Meditation & Holistic Hatha Flow/Vinyasa Flow
9:00 Delicious Breakfast
10:00-1:00 Sacred Expression Writing Circle/Discussion
1:00-4:00 Delicious Lunch & Free Time
4:00-6.30 Sacred Expression Writing Circle/Discussion
6:30-7:30 Delicious Dinner
7:45 Sauna, Circle, Healing Ceremonies (some evenings)
Delicious meals are vegetarian. Chicken/fish ($7 extra per meal) and alcohol can be added to meals at your discretion.
Relax in a hammock and enjoy the views, swim in the lake, do a meditative walk on nature trails, receive a spa treatment, dip in the solar hot tub & pools, or detox in the sauna in daily breaks.
On two days, we'll hold longer breaks and offer optional group excursions – visits to villages or hiking/kayaking adventure options.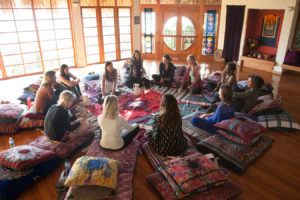 You will also participate in afternoon/evening ceremonies with guest facilitators as we stoke our soul voices and connect with our energies – such as Sound Healing, Traditional Mayan Fire, Cacao Ceremony, and Movement or Dance.
Guests are advised to fly into Guatemala City by noon on July 31st and book return flights for mid-afternoon on August 9th or following day. We can provide hotel recommendations for stays in Antigua or near the airport before or after the retreat.
What Women Have Said
"Writing. Beautiful writing, surrounded by rituals, dancing, and yoga in one of the most beautiful places I have ever been. It's been one week since the retreat ended, but I am still processing what it was – a time between times, a timeless, poetic life changing trip. A voyage into eight inner worlds that this magical, beautiful, mystical woman Aimee somehow managed to transform into one big soul. This is my new tribe. Profound sharing, deep connections, open ears and open hearts made the Storyteller Within an expansive land where we all left our seeds. I would recommend this miraculous, intimate and transmutative experience only to those that would want to look with love and compassion inside their soul, and by sharing that with amazing women – all of different ages, places, and backgrounds – have the most transformative, fun and poetic time of their lives." (Julia, July 2019)
"The power of this circle still gives me tingles. It is the power of togetherness, of shared adversity & joy. Of shared accomplishments and trials. Of reaching deep and sharing our own heart song. Of looking in each women's face and knowing we belong." (Maggie, January 2018)
"Our Storyteller Within retreat on Lake Atitlán in Guatemala felt like a week in paradise. During writing circles we explored our inner most desires, re-wrote personal stories that didn't serve us, and let ourselves be truly honest. Aimee is an amazing facilitator with a stunning ability to inspire and affirm. This retreat has undoubtedly changed the trajectory of my life–I could not recommend it any more highly." (Mary, August 2018)
"My experience of this retreat was nothing short of magical. I shed toxic stories that held me captive for far too long. I rediscovered parts of myself that were buried somewhere within for indeterminate amounts of time, and even discovered aspects of myself that I never knew existed. I spoke truths that I previously never dared. I danced, stomped, howled at the moon, cried, felt alive in ways I didn't know were possible, profoundly connected to myself and other beautiful women, and emerged with a light inside of myself that continues to shine brightly even a month after returning to "real" life." (Ellen, August 2017)
Retreat package includes:
Daily morning guided meditation & yoga

Two self-exploratory writing circles on most days

9 nights accommodation at Villa Sumaya (double or private)

Delicious vegetarian breakfast, lunch & dinner

Unlimited tea/coffee service

5+ sacred healing ceremonies (eg. Mayan Fire Ceremony, Sound Healing, Cacao, Dance & Movement)

Sauna & night jacuzzi

Use of swimming pool & solar hot tub

Base gratuities for the local indigenous staff

All Taxes
excludes
Optional extras: off-site excursions (approx $30-60 each), spa treatments ($75/hour or $100/1.5 hours), Meal supplements (fish, chicken $7), alcohol, WIFI ($20 week)

Flights & ground transport 

Flights & transport to the retreat

Travel insurance (strongly recommended)

C-19 testing
INCLUSIVE RETREAT FEE: $2350 USD (doubles) 
Private Upgrades: from +$400 to +$600