Awaken to the Sacredness of Life / Kaivalya Elise Headley
November 30 - December 5, 2021
This will be a journey through the sacredness of life. In this extraordinary experience on the sacred Lake Atitlan, we will come together to make ordinary life sacred again. By honoring all of the things we take for granted such as breath, food, water, body capability, and the relationship we invigorate our connection to the divine. This will be a time to restore and return to the sacredness of life. There will be a focus on the three inner fires of the intellect, heart, and gut as we connect to the three volcanoes that surround the lake. We will be harmonizing the 5-elements through Hatha and Yin yoga. Sustaining our connection to the elements brings balance and awakens inner power and truth. In this 5-day retreat with meditation, yoga, ceremony, time with nature, prayer, play, and song you will have the chance to awaken to the sacredness of life again find a way to return to your true power. Giving you tools to live with and carry back to ordinary life. Not to mention the memories and joy of truly living. Reserve your spot at www.EnchantedMedicine.com.
About the Teacher
Kaivalya has been offering yoga and sacred sound healing since 2013. She is a ceremonial facilitator. With a deep understanding of the eastern traditions that have studied energy and vibration for centuries. She has a Master's degree in the Science of Oriental Medicine and is a 500hr E-RYT (Experienced- Registered Yoga Teacher) with Inner Power Yoga.
She has sat and prayed through countless sweat lodges with the Tewa of Taos Pueblo, traveled the world, and studied with the Tibetan and Hindu traditions of Tantra. She offers her authenticity in all of her work.
Testimonials
"It was like a bath for my soul." – Jackie B., Yoga Teacher.
"The yoga class felt like a medicine journey. I feel renewed!" Stephanie W., Artist.
"I would highly recommend Kai, her touch is gentle and patient. I am an elder and have worked with many healers, but she is my favorite. She is truly attentive to my energy and needs day by day. I have received sound healing from her for a year or more now and I keep coming back for more." -Mari Redmoon, Astrologer and Psychic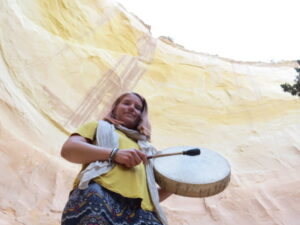 "Without getting into too much detail after our sound healing session things in my life just started to align in ways I had never experienced before." -Zach Grace, Reiki Master