AWAKEN Yoga Retreat / Diala Hamed and Hawah Kasat
January 29 - February 5, 2022
Venture into the magic of Lake Atitlan and surrounding areas for a week of dynamic movement, heart-expanding community, and cultural immersion. Lake Atitlan is surrounded by a vortex of volcanoes. It is known for its healing and mystical properties that seekers and believers feel upon arrival. The lake lies in the heart of an ancient volcano's caldera, which filled with water after it's final eruption 85,000 years ago. "Atitlan" in Nahuatl means "the place where the rainbow gets its colors." Lake Atitlan and its surroundings make it the perfect backdrop for healing and transformation.
Lake Atitlan was nominated as one of the seven wonders of the world. It is considered to be one of the most beautiful lakes in the world and the color of its waters varies from deep blue to green. The lake is 1,500 meters above sea level, with a length of 18 kilometers, and a depth of up to 341 meters, making it the deepest lake in Central America.
The hills and volcanoes around the lake offer dense forests, where hiking can be practiced without problems, allowing for the observation of a wide variety of birds, from timid little woodpeckers, to the Quetzal, the National bird. Leisurely pass from daily yoga, meditation, and wellness classes, hiking, kayaking, and reading in lakeside hammocks for hours on end.
Your experienced retreat leaders Diala and Hawah have traveled the globe to practice, learn and teach yoga. You can count on them to share their vast knowledge of yoga while supporting you with laughter and attentiveness on this fun adventure.
This is a trip that will expand your worldview, and even the view of yourself. An experience that introduces you to new people, new beginnings, and contagious joy, bringing hope in a sometimes dim-seeming world.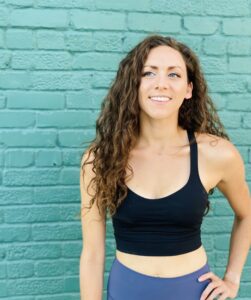 E-RYT 500 Diala Hamed
(E-RYT 500) North Carolina native Diala was introduced to yoga in 2011 while earning her B.S. in Nutrition and Dietetics. After a few classes, she noticed a shift in her mind and body. This shift sparked her curiosity about the philosophy of yoga, and lead her to complete her 200 hour YTT in Puerto Viejo, Costa Rica. In an immersion program, she studied the practices which ultimately help us become our most humble and content selves. In November 2018 she earned her 300 hr certification at Akhanda Yoga School in Rishikesh, India. She has since taught and participated in yoga across the globe in over 10 countries, across Europe, Asia, and Australia. She spent ten days in silent meditation (Vipassana) in New Zealand to better understand her mind. Yoga has taught Diala to ride the waves of life instead of trying to fight them. She believes wherever you are in your practice is always enough, but when you're ready she'll give you the extra push you need to pass your expectations.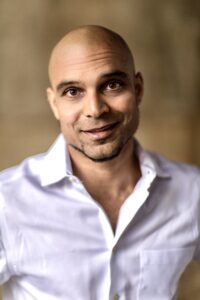 Hawah Kasat has dedicated his life to teaching about solutions to violence and ways to peace and has traveled to over 42 countries to facilitate interactive workshops, dialogues, perform poetry, and teach yoga. In the year 2000, he co-founded "One Common Unity," a non-profit that inspires a culture of non-violence through arts, music, and education. Hawah has authored 4 books, produced 3 documentary films, 2 musical CDs, and is the creator/ editor of "The Poetry of Yoga" book anthology that features Grammy award-winning musicians and master yoga teachers. Hawah has been teaching yoga for nearly 20 years and has led yoga, wellness, and culture retreats around the world to places like Bali, Nepal, Iceland, and Peru. In his spare time, Hawah enjoys: finding new foods to mix with chocolate, climbing trees and buildings, doing handstands on furniture, hiking through mountains with flip flops, body surfing ocean waves, making animal sounds and bird calls, enjoying a glass of wine at high altitude, lighting candles in dark rooms and traveling.