GUIDED: Guatemala / Lindsey Dukes & Danielle Bryan
April 30 - May 7, 2022
Join Lindsey Dukes & Danielle Bryan of The Medicine Connective for a week-long immersion in one of the most beautiful & mystical parts of our planet: Lake Atitlan.
GUIDED: Guatemala will be a blend of deep-dive workshops & movement sessions, with nature exploration & play. There is an innate guidance and wisdom that lives within each of us, and our intention for this trip is to give you a tangible connection with that wisdom, within You.
Sessions will include vinyasa yoga, energized breathwork journeys, sound bowl journies, high intensity interval training, yin yoga, loving kindness meditation, personal development workshops, reiki healing and connective activities.
The Medicine Connective Retreats use an extremely unique formula of "deep work + deep play" which result in you walking away with a deeper understanding of yourself AND with a whole new soul-tribe family.
We can't wait to experience this with you!
What's Included
Pre & post-trip deep connection call
8 day/7 night accommodations
Transportation
All (plant-based) meals minus lunch on travel days
Guided tour of local Mayan village
Guided hiking adventures
Kayaking and cliff jumping
Massage
Daily guided movement (yoga), meditation & breathwork
The Generation Next workshop
The Mechanics of Miracles workshop
Fire ceremony with Mayan spiritual guide
Optional cooking class & other culturally immersive experiences
Customized Medicine Connective jewelry piece
About the Leaders
Lindsey Dukes
I am a curator of alchemical experiences, avid world traveler, adventurer, HeartWork Facilitator and Personal Trainer.
After spending 4 years professionally designing and leading trips in the international travel industry, I'm so grateful for the opportunity to combine my professional experience with my passion for serving the greater good through the Medicine Connective.
When I land, I do so in Austin, TX, but it's usually not for more than two weeks. I am a full-time nomad, the world is truly my "home"!
Danielle Bryan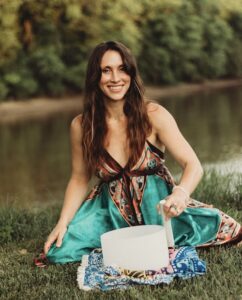 I am a student & teacher of transformation-driven tools. I love nothing more than curating impactful experiences for the people I love. My offerings are rooted in leadership, service, heart-driven entrepreneurship & travel. I am a 500 HR Yoga Teacher, Certified Meditation Teacher & Breathwork Guide, HeartWork Facilitator & Personal Trainer.
I live on a river in my hometown of Indiana with my cat Bodhi after over a decade of traveling the country & living in various places, facilitating my own personal awakening & healing journey.