Wake Up the Heart: A Sound Yoga & Sacred Music Retreat / Kavita Macmillan & Dave Hoover
March 5 - 12, 2022
An intimate week of sacred sound yoga & music practice, cultivating the muse and connecting to Spirit.
Join devotional musician and creative guide Kavita Kat Macmillan & multi-instrumentalist Dave Hoover for 7 days of deep listening and practices to awaken our connection to sacred music within and without.
~ Daily sound yoga and mantra meditation
~ 'Open Your Voice~Open Your Heart' workshops
~ Evening devotional Kirtan and mystical sound baths.
~ A private session with one of the musicians and a massage at the on-site Spa
~ Space for time in nature, Yoga, & meditation
~ Mayan Cacao ceremony and local cultural excursions
Each participant will be supported on their personal creative and spiritual journey through the beauty and power of Lake Atitlan and the ritual container created by these experienced facilitators. We will allow plenty of space for soaking up nature as well as daily yoga & meditation time as part of our journey together. A private session with one of the musicians during the week is included as well as a massage at the on-site spa. At some of our evening devotional music sessions, we will call on the magic of Mayan Cacao to ceremonially connect with the land and our own centers within and pay homage to all the ancestral connections.
No musical experience is necessary just a willingness to show up for your own process and be surprised by what you find! If you already play an instrument you are encouraged to bring it if you like. By witnessing one another on this path we allow for our authentic creative voices to arise and be heard. If you are most comfortable listening there is space for you as well. We are all musical beings and our light shines most brightly reflecting off one another! Come 'Wake up the Heart' of devotion this week with us and be the love you are.
About the Facilitators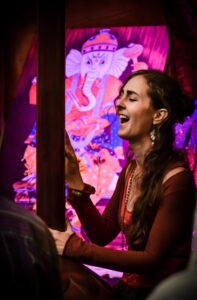 Kavita Kat Macmillan is a devotional musician & yoga instructor who brings over 20 years of teaching, sharing kirtan & study of Naad (sound) yoga to her classes and offerings. Kavita's 'Open Heart Kirtan' presents traditional mantras in original compositions with Western and Indian influences. Through her musical offerings, yoga asana classes & 'Open your Voice ~ Open your Heart' workshops Kavita guides students in truthful open expression and exploration of voice & movement, connecting deeply with divine spirit.
Kavita's approach to voice and music guidance is influenced by a deep study of Indian Classical Music which opened for her the path of call and response learning and the ability to find her own songwriting voice. This and years of training as a member of The Vangeline Theater (a professional Butoh dance troupe) informs Kavita's teaching, giving her a deep-felt sense of how we can somatically heal and grow through artistic expression and exploration. Kavita is a generous and nurturing guide for those interested in exploring this path!
Kavita's most recent recording project "The Beloved Lives Inside" was released in 2021.
http://openheartkirtan.com
https://kavitakatmacmillan.bandcamp.com/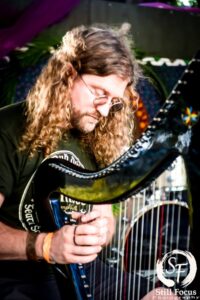 Dave Hoover is a self-taught Celtic Harper and multi-instrumentalist musician, storyteller & bard connecting ancestral songs and stories to facilitate present-day experiences. Dave honed his skills on the harp by playing for patients in the ICU or transitioning from this world at UNM hospital in Albuquerque, New Mexico for fifteen years. In 2015 he relocated to Portland, Oregon, and has been touring the globe accompanying world-class musicians and learning about sacred sites and indigenous teachings.
Dave is a student of Mythology and wisdom traditions from around the world and often weaves storytelling and mythic themes into his music and teaching. He believes in helping people heal themselves and others through these connections with ancient wisdom traditions and our own ancestral musical lineages. Dave invites students and listeners to join him on this journey of discovery.
www.facebook.com/thewanderingbard/
davehoover.bandcamp.com
Rates and Registration
We are so looking forward to this circle coming together! More details and a Full Schedule to come after registration.
To join us and register now contact Kavita: www.openheartkirtan.com/contact
$2000 ~ double occupancy
$2250 ~ single occupancy
$165 / day ~ non-residential
$300 non-refundable* deposit to reserve your space!!
50% of the balance due January 2022 – the remainder of the balance due 2 weeks prior to Retreat.
Included: All workshop sessions plus 3 vegetarian meals a day, accommodations at the gorgeous eco-retreat Villa Sumaya on the shore of Lake Atitlan. One private session with the musicians and a massage per guest. All transportation once in Guatemala. Airfare to be arranged separately. Gratuities, Fish or Chicken for meals, Covid testing as well as optional excursions that we will arrange once we are together additional.
Please consult the Villa Sumaya website for the Covid guidelines.
*If international travel is not possible due to Covid, the retreat will be postponed per Villa Sumaya's policies