Wake Up the Heart: A Sound Yoga & Sacred Music Retreat / Kavita Macmillan
December 27, 2022 - January 3, 2023
Join devotional musician and creative guide Kavita Kat Macmillan for an intimate week of cultivating the muse and connecting to Spirit. We will explore Bhakti music, Sound yoga, Asana, mantra & meditation opening each one of us to the heart of devotional practice. In the evenings we will share Kirtan (call and response chanting) and mystical sound baths.
Each participant will be supported on their personal creative and spiritual journey through the beauty and power of Lake Atitlan and the ritual container created by the experienced facilitators.
Through words, movement, song, and silence we all may express ourselves and sink in. Kavita will be supported by multi-instrumentalist & Celtic harper Dave Hoover as well as other esteemed guests to guide and hold our container for this week.
No musical experience is necessary just a willingness to show up for your own process and be surprised by what you find! Listeners and those new to Bhakti music and yoga are welcome as well as those who are cultivating this practice. If you already play an instrument you are encouraged to bring it if you like.
By witnessing one another on this path we allow for our authentic creative voices to arise and be heard. We are all musical beings and our light shines most brightly reflecting off one another! Come 'Wake up the Heart' of devotion this week with us and feel the LOVE you are.
~ Daily sound yoga, mantra meditation & asana practice
~ 'Open Your Voice~Open Your Heart' workshops
~ Hanuman Chalisa, morning puja and chakra sound meditation
~ Evening devotional Kirtan and mystical sound baths.
~ Space for time in nature, excursions to local markets, hiking the mountain, swimming & relaxation
The musicians will be available during the week for private sessions if desired. The on-site spa is available for massage and treatments as well. We will indulge in the magic of Mayan Cacao to ceremonially connect with the land and pay homage to our own ancestral connections.
About the Facilitators: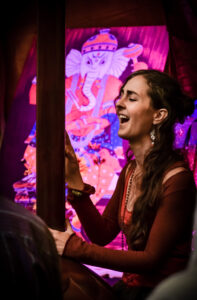 Kavita Kat Macmillan is a devotional musician & yoga instructor who brings over 20 years of teaching, sharing kirtan & study of naad (sound) yoga to her offerings where participants are supported to explore their authentic voice. Kavita's 'Open Heart Kirtan' presents traditional mantras in original compositions with Western and Indian influences. Through her musical offerings, yoga asana classes & 'Open your Voice ~ Open your Heart' workshops Kavita guides students in truthful open expression and exploration of voice & movement, connecting deeply with the divine spirit. Kavita is a generous and nurturing guide for those interested in exploring this path. www.openheartkirtan.com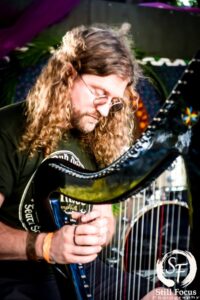 Dave Hoover is a self-taught Celtic Harper and multi-instrumentalist musician, storyteller & bard connecting ancestral songs and stories to facilitate present-day experiences. davehoover.bandcamp.com
---
We are so looking forward to this circle coming together! More details and a Full Schedule to come after registration.
To join us and register now contact Kavita: www.openheartkirtan.com/contact
Contribution :
$1800 ~ double occupancy
(special early-bird pricing * $1680 – ends June 20th, 2022)
$2100 ~ single occupancy.
(special early-bird pricing *$1980 – ends June 20th, 2022)
inquire about pricing for a deluxe Suite accommodation or for a residential rate if you live in Lake Atitlan.
$333 non-refundable deposit to reserve your space
50% due 2 months prior to retreat,  final balance is due 2 weeks prior.
Includes :
All workshop sessions plus 3 vegetarian meals a day, accommodations at the gorgeous eco-retreat Villa Sumaya on the shore of Lake Atitlan.
Not included :
transportation to / from Villa Sumaya.  (We will help arrange)
Airfare to Guatemala City. Other extras that may be added: Tips and Fish or Chicken for meals & internet at the resort are extra, as well as optional excursions that we will arrange once we are together.
Please consult the Villa Sumaya website for their Covid Guidelines.
Reach out to Kavita with any questions:  www.openheartkirtan.com/contact