Revitalize Your Spirit / Janice Harimandir Samuelson
November 12 - 19, 2022
Revitalize means to imbue new life and vitality, to become active, healthy and energetic. Spirit means that which intellect, fears, emotions, passions and creativity.
Lake Atitlan is nestled in the Guatemalan Highlands of the Sierra Madre mountain range, surrounded by three dormant volcanoes and steep cliffs.
Lake Atitlan is a highly charged vortex of Mayan culture, healing and spiritual experiences. Stepping on this sacred
ground will evoke all the healing and renewal you are looking for.
With daily Yoga practice morning and night, nutritional meals, sacred ceremony and time away to regroup, renew and rejuvenate. This is vital to our lives and our health. Join us as we celebrate and Revitalize Your Spirit!
Please join us and step away form your daily routine to rediscover YOU!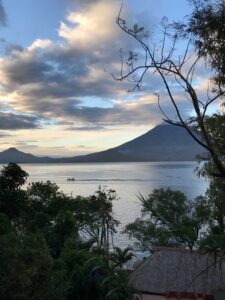 What's Included
Accommodation
Daily vegetarian breakfast, lunch, dinner Daily (one dinner excluded) – fresh, locally grown cuisine
Unlimited drinking water/coffee/specialty retreat teas
Daily Yoga
Evening Meditation or Yoga Nidra
NOT INCLUDED:
Airfare to Guatemala
Shuttle from Guatemala City to Panajachel
Additional guided excursions (hike, kayak) will be offered for a fee
ADDITIONAL EXCURSIONS & AMENITIES
Spa Services
Mayan Fire Ritual
Sweat/Chichimeca Ceremony
Cacao Ceremony
Exploring nearby villages and markets
Volcano/ Mountain hike
Kayaking tour
Private Meeting with the Shaman
Retreat Opportunities
On and around Lake Atitlan many options and extras are available including:
Swimming
Kayaking
Diving
Boat rides around Lake Atitlan
Bird watching
Hiking the San Pedro Volcano
Climbing El Pico del Cielo
A shopping excursion to Panajachel
Guided village tours to Santiago, San Juan, Santa Catarina, San Antonio and the Chichicastenango Market
This is the gift of Mother Gaia to help you restore your being.
About the Teacher