ISTA Level 1 – Spiritual Sexual Shamanic Experience
July 9 - 15, 2022
In 2022 The International School of Temple Arts will be hosting its transformative Level 1 Spiritual Sexual Shamanic Experience residential retreat at one of the world's most majestic destinations: Lake Atitlán, Guatemala.
From July 9-15, ISTA Guatemala level 1 will take place at the luxurious and eco-friendly Villa Sumaya, located on the shores of the lake, surrounded by three breathtaking volcanoes.
This magical location, combined with a dynamic team of facilitators: Araminta Barbour, Juan Es Alzate Mejia and Winter Jade Icely, it promises to deliver a powerful and life-changing experience for those that are ready to step into their power.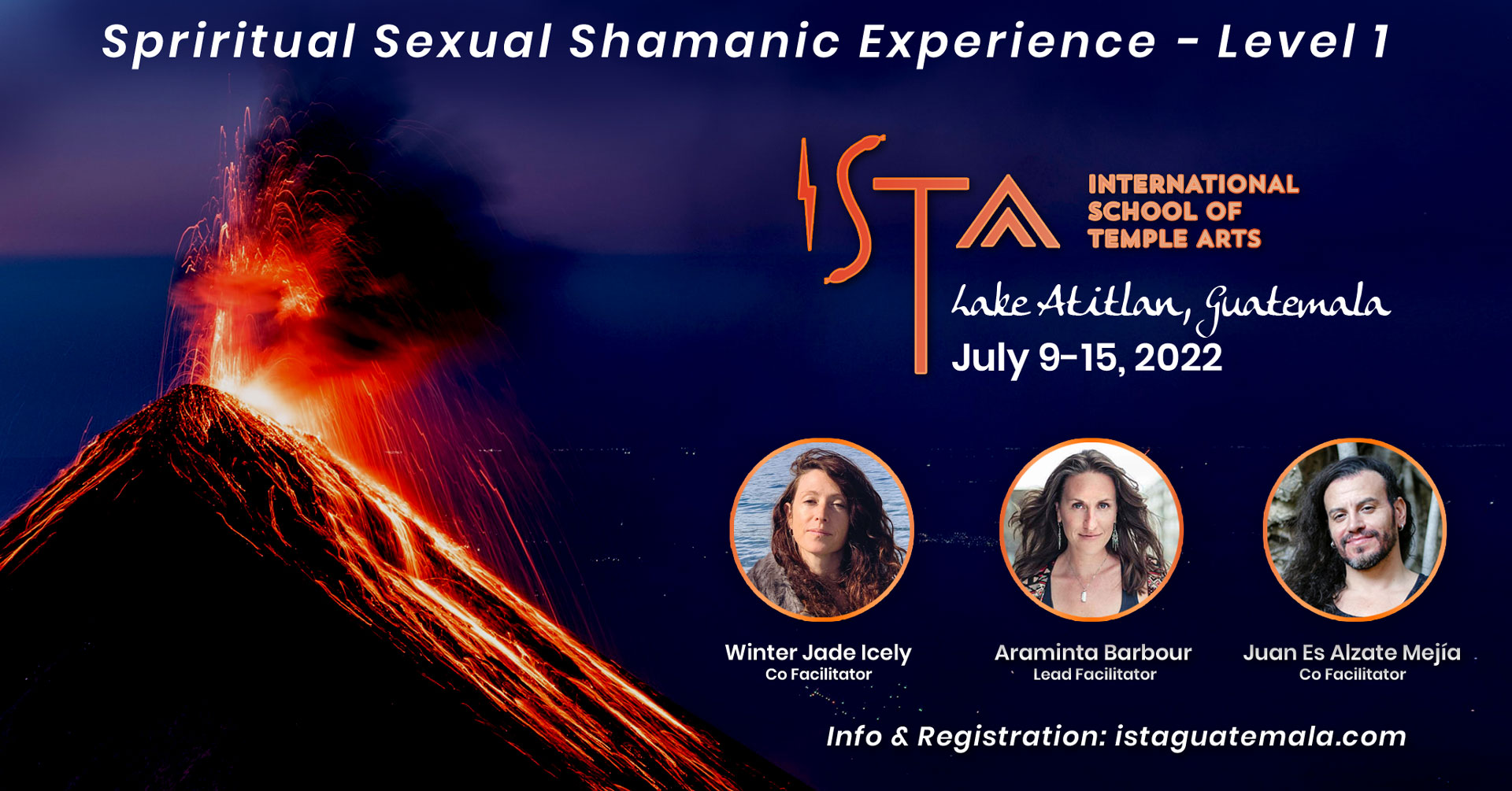 ISTA Level 1 in Guatemala
The Spiritual Sexual Shamanic Experience
As humans, our deepest desire is for connection, but when our connection to ourselves is not optimal we can get stuck in repetitive relationship patterns or accepting and tolerating relationships that don't serve us. Continually living with these kinds of patterns can cause us to feel lost, afraid or out of control.
The 7-day ISTA (Sexual Shamanic Spiritual Experience) Level 1 has been offered to thousands of people across five continents from more than fifteen years. In a safe environment with other people looking to take back control of their lives, graduates from these week-long experiences uncover and heal deep core wounds and reactive patterns. They leave feeling empowered, healed and courageous to take control of their lives and relationships.
The level 1 SSSEx residential experience gives you a space to clear your physical, emotional and mental bodies of shame, guilt and fear. We use guided visualizations, emotional release, energy tracking, conscious touch and ceremony to open a doorway into a deeper a knowing of the Self as whole and complete.
What Can You Expect?
A supportive participant/facilitator ratio.
Total confidentiality.
Experienced facilitators.
A safe container honoring your healthy boundaries.
Luxurious location & high-end lakeside resort venue.
Gourmet, healthy and locally sourced cuisine – we cater to all food needs and sensitivities.
Access to be part of a supportive global community.
All spiritual pathways, sexual orientation and gender identities are welcome.
Are You Ready to…
Clear emotional blocks.
Heal religious and social dogma around sexuality.
Heal and identify boundaries.
Heal relationship heartaches.
Heal fear, jealousy and competition.
Own your full ability to manifest and create.
Not spend another day disconnected from your personal power.
No longer remain stuck in past dramas and traumas.
Stop limiting your capacity for pleasure.
Stop feeling shut down and disconnected.
Get rid of unclear personal boundaries.
Escape a lack of consent and poor communication skills.
Is This Training For You?
Thousands of people on 5 continents have gone through this training worldwide, the individuals cover a wide age range from 18 to 80, varied backgrounds and professions, all sexual orientations, relationship styles and gender identities, from every world religion, nationality and ethnicity. As this training is a week long journey through life's core experiences and wounds as a collective human experience, bringing an open mind and heart will allow one to receive the gifts wisdom, healing and growth. No previous experience of sacred sexuality, tantra or shamanism is required to participate and everyone is welcome.
Some people take this training for their own personal evolution and healing. Others are interested in exploring how the training adds to their business or professional life. Many are interested, entering or already belong to the profession of Sacred Sexual Practitioner or Sexuality Educator. Optional nudity and safe intimate touch are a part of this training, however, you are always at choice and the facilitators will help you navigate what is authentic for you.
This course is open to all who are called. Experience is not required.
The ISTA level 1 SSSEx training is an individual process that happens in a group environment. A level of ability to be self responsible is needed to navigate the spiritual sexual shamanic space. ISTA is a mystery school and approaches trauma from the shamanic perspective of connecting with the body and soul. We recommend that if there is known deep seated trauma, individuals seek one on one sessions and get the OK from their therapist before entering the group process.
What Will We Be Doing at This Event?
Each training is unique and does not follow a strict curriculum—the facilitators are trained to listen to the field, the group, and feel into what would best serve your highest-good. Below is a partial list of topics that will be covered…
Intentions, Invocation & The Art of Ritual. Holding Sacred Space.
Authenticating the Moment – Showing up – Power & Presence
Identifying needs; Safety and Emotional support & Practice
Boundaries & Personal Empowerment
Giver/Receiver Practice
Moving from Transference & Projection to Authenticity & Sovereignty
Self-consciousness, Maturing Awareness, Monitoring the Ego
Making & Keeping Agreements
Personal/Collective Sexual Wounds, shadow & Abuse
Monitoring & Owning Feelings – Power & Practice
Healthy & Unhealthy Masculine & Feminine Dynamics
Transmissions on Fear, Jealousy and Competition
Embodying the Divine Masculine and Feminine in the Full Range of Archetypes
Integration of Your Inner Masculine & Feminine energies – Sacred Relationship/Marriage
Owning our Humanity, one's desires and the ability to manifest
Contra-sexual Awareness & Gender Play (Inner Masculine/Feminine Coupling)
Clearing Emotional Blocks – The Wounded Healer
Breath Work
Anchoring, Grounding and Sustaining Healing Change
Healing Religious and Social Dogma and Sexuality
Control and Fear, Suspicion around Pleasure
Releasing Judgment /Finding the Path to Love
Empathic Listening and Touch
Session Demonstrations: Sacred Tantric Temple Practices
Healing Sacred Sexuality Rituals and Embodiment Practices
Araminta Barbour (Lead Facilitator)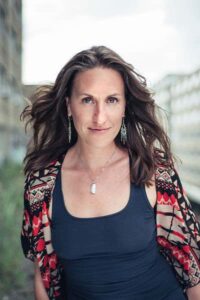 Araminta is an international speaker, group facilitator, and 1-1 guide specializing in empowerment, relationships and sexuality, transformational healing, soul initiation, and the esoteric mysteries. Lead Faculty with ISTA (the International School of Temple Arts) with whom she has collaborated since 2011, Araminta is the founder of The Sanctuary Guatemala, creator of The Resilience Journey, and co-creator of the Women Who See In The Dark project.
Weaving together an academic background in History, Ecology, and Theravada Buddhism (BA Hons & MA), over a decade spent in the international development NGO world (reproductive health focus) with 25+ years traveling, studying, and practicing a wide range of alternative healing modalities, and philosophical/ esoteric traditions, Araminta's work can be encapsulated in the phrase "spiritual sexual shamanism" – an attempt to address the fullness of our human gifts and capacities. In 2005, Araminta's heart settled in Guatemala's Lake Atitlan – her home base for continued event facilitation around the world.
Araminta's life path has been shaped from the learnings brought from death, grief, travel, and the deep questioning of collective beliefs. She supports clients to transform painful experiences into power, heal from parental and relationship wounding, step-free from sexual or emotional abuse, and navigate the psychological hurdles to self-acceptance, self-belief, and self-love. Her deeper focus is awakening to expansive levels of Self untangled from collective consciousness.
Araminta utilizes skills from Meditation, Non-dual Spirituality, Shamanism, Sacred Sexuality, Tantra, Breathwork, Yoga, Bodywork, Shadow Integration, Emotional Release, and Initiatory rituals. Her teachings aim to bring together the tools and maps that reactivate our full human capacities. Araminta's core passion is the process of radical self-acceptance – the inner marriage of love with power. She is here to support humanity's evolution as liberated, heart-centered creators.
Juan Es Alzate Mejía (Co-Facilitator)
Since 2008, Juan has been working with shamanism to effect healing change in his life and the life of others. This work has taken Juan all around the world, working and training with shamans from China, Peru, Chile, Colombia, Brazil and throughout the USA. Juan has trained and is experienced in; psychic intuitive development, Reiki, Akashic Records, Yoga, Kungfu, Tantra, Transformational Psychology, Holotropic, and Shamanic Breathwork to name a few. Juan completed the core of his shamanic training with Alberto Villoldo at The Four Winds Society in 2012. Since 2017 Juan has been diving deep in the Tantric Arts becoming a faculty apprentice with ISTA-International School of Temple Arts, completing all courses offered, with 500+ hrs. of studies. Juan is dedicated to bringing shamanic and tantric healing to all humanity, especially those who are ready to go on and take responsibility for their own healing journey.
Winter Jade Icely (Co-Facilitator)
Winter is an international teacher, writer and facilitator in the realms of the mystical arts, sexuality and dark embodiment.
Holding a deep connection with magic, Winter offers a powerful transmission of the inner worlds and invites you to step outside formed notions of reality into a life of enchantment.
Winter's work penetrates ideas of gender and sexuality and the spaces she creates are beyond constructs of duality, of him and her, to the deeper realms of soul, the singularity that connects us all.
Winter is a qualified social worker and holistic counsellor working with clients and groups through periods of crisis and soul development. She is a guide for those seeking radical transformation, who wish to unravel the layers of conditioning that obstruct the dazzling core of our aliveness.
She is passionate about liberating herself and others to remember the limitless nature of their dark essence. Winter has a deep calling to bring forth the temples of the new earth, to create spaces that penetrate worlds, that merge spirit and matter.