Yoga, Cacao, & Ecstatic Dance Retreat / Amanda Anspach & Kevin Wong of Habitual Roots
December 3 - 10, 2022
THE INVITATION:
This is your invitation to choose YOU! 
"At any moment, you have a choice that either leads you closer to your spirit or further away from it." -Thich Nhat Hanh
We invite you to choose an experience that will serve as a refuge from daily distractions, rejuvenate the spirit, transform perspective, and unleash a joy unlike anything we've experienced before. Can you imagine yourself fully immersed in ancient practices, sacred land, peaceful waters, and vibrant community?
Join Habitual Roots facilitators, Amanda and Kevin, on this week long journey to one of our favorite places on earth. We will stay at Villa Sumaya, a spiritual retreat and wellness center located in Santa Cruz la Laguna on Lake Atitlán, Guatemala. Lake Atitlan is a magical mecca for yoga, cacao, ecstatic dance, and connecting to nature. We will take a much deeper dive into these ancient practices and explore how they elevate and enrich our lives.
There will be plenty of space for solitude and reflection as well as adventuring together. Optional adventures include hiking up volcanoes, paddleboarding, kayaking, exploring other villages, and more!
WHAT MAKES A HABITUAL ROOTS RETREAT UNIQUE?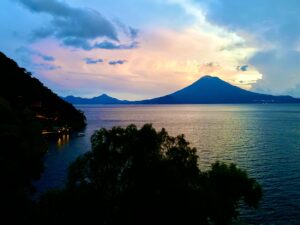 Practice
Presence
Play
(Devote yourself to your wellbeing. We feel so we can heal.)
Community
Comradery
Connection
(Feel held and free in chosen family. Create lasting friendships and unforgettable memories.)
Exploration

Expansion
Ecstacy
(Go within, set yourself free, and celebrate life!)
"Traveling to the Mayan stronghold of Lake Atitlán is a pilgrimage into your heart center. It may be the most rewarding thing you will ever do for yourself!" -Villa Sumaya (our home for the week)
INCLUDED:
Pre and post-retreat call with Amanda & Kevin (intentions & integration!)
7 nights lakeside accommodation
3 plant based meals daily
Unlimited filtered water/coffee/tea
Yoga & meditation classes every day
Private water taxi to/from Villa Sumaya
Multiple cacao ceremonies & ecstatic dances
Tour of cacao processing in San Marcos
Group integration sessions
A much deeper dive into the ancient practices of yoga, cacao, & ecstatic dance!
NOT INCLUDED:
Airfare to/from Guatemala City
Shuttle from GC to Panajachel (we can help arrange this!)
Tips to Villa Sumaya staff
Optional tours & activities
Exploring other villages around the lake
Spa services
HOW TO SIGN UP:
Visit https://www.habitualroots.com/go-for-guatemala.html for more info!
A $555 deposit is required to reserve your spot. Please email us at amandaanspach@habitualroots.com to set this up.
Payment plans available.
Must be paid in full by 11/1/22.
The deposit is non-refundable.
ABOUT THE LEADERS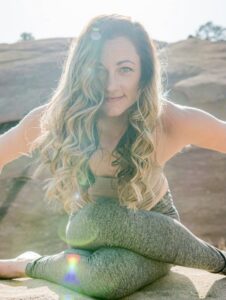 Amanda Anspach is a yoga teacher, professional tie-dyer, world traveler, community cultivator, and experience enhancer.
She began her yoga journey as a teenager and eventually made her way to Rishikesh, India in 2012 for her first teacher training. Since then, her adventurous spirit and perpetual self-inquiry has led her all over the world to teach and explore.
Amanda embodies a unique blend of intensity and calmness, of discipline and relaxed playfulness– a sort of walking embodiment of sthira suhka. She is passionate about guiding experiences that inspire authentic connection, personal exploration, and spiritual integration. Always a dedicated student, she holds advanced certifications in Annie Carpenter's SmartFLOW method and Yin Yoga with Kari Kwinn. Amanda's classes are rooted in ancient teachings, modern movement principles, and sacred stillness to facilitate a deeper level of presence, discernment, and joy.
Amanda is part of the yoga team for Envision Festival in Costa Rica and curates wellness spaces for other festivals and events. She is also the lead facilitator and retreat coordinator for Habitual Roots, a wellness nonprofit in Denver, CO. Amanda teaches weekly classes at Samadhi, White Lotus Therapeutics, and the Yoga Center of Denver.
IG: @tiedyeallday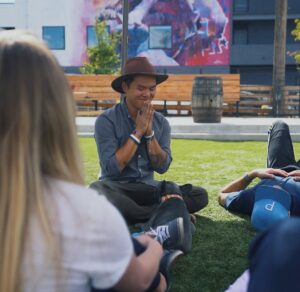 Kevin Wong is the co-founder of Habitual Roots and its lead contact in Denver C.O. Kevin spent 6+ years managing projects within the engineering, nuclear, and software industries. Since breaking from his old-stories and conditionings of the world that allowed him to obtain his professional coaching license. With this, it inspired Kevin to recreate his relationship to the first thing we all had to learn, the breath.
Kevin has become passionate about empowering others to reflect, connect, and reset habitually through the presence and peace that is within.
Kevin's love for people's stories and appreciation of diverse upbringings drives his constant curiosity of the world.
He encourages others to be an advocate for change and reflection. He has spoken and guided practices at corporate and community events across the country, aspiring to help others create powerful habits in their personal and professional lives.
Begin exploring the present with Kevin to improve the well-being of the self, environment, and the world. It starts with you.
IG: @kevinsroots @habitualroots