Recharge Your Soul and Awaken Your Spirit: Root II Rise Yoga Retreat / Carrie Gale
February 4 - 11, 2023
Tucked in the Guatemalan Highlands, Lake Atitlan has been described as one of the world's most beautiful lakes. Nestled against a majestic backdrop of three volcanoes, Lake Atitlan's natural landscape is astounding. Another truly beautiful quality can be found in the unique and interesting villages that dot the shoreline and the indigenous people who inhabit these villages.
If you are looking for adventure, something to recharge your soul and awaken your spirit, why not journey with Carrie and Root II Rise Yoga Retreats to this magical place!  If you decide to join Carrie on this retreat, then first and foremost, know that the retreat is all about you!  There will be multiple yoga sessions offered throughout the day which cater to all experience levels.  Want to skip a practice to sleep in, have a nap, or sit by the pool and read a book? no problem!  In addition to yoga, Carrie's retreats offer the opportunity to adventure and explore local cultures, make connections with like minded people that may even last a lifetime, and of course, there is the food, delicious and nutritious, something for everyone!!!  You will experience the perfect blend of health and wellness with indulgence!
Where are we staying?
Villa Sumaya is a 5 star retreat and wellness centre located on the shoreline of Lake Atitlan in the village of Santa Cruz.
What's included?
Round trip transportation from the airport (Guatemala city) to the venue (if travelling with our group) I can assist with arrangements if not travelling with the group.
Stunning accommodations with spectacular views of the lake
3 vegetarian meals daily all made with local fresh ingredients (can add chicken/fish for extra charge)
Coffee, tea, filtered water
Daily yoga practice and meditation- Vinyasa style in the morning and evening Yin/Restorative/Nidra- our theme for the week will introduce participants to the 7 chakras
Two traditional ceremonies including:
Mayan Fire ceremony: A Mayan spiritual guide will share a traditional Mayan Day Count Fire Ceremony with your group. You will be encouraged to participate in this interactive earth-work ceremony. This ritual includes foundational teachings about the Mayan calendar day count and the co-creation of the sacred fire. In the age-old custom, you'll use chocolate, candles, cinnamon, myrrh, copal (tree resin) and the appropriate herbs to honor the energies of each day in the Mayan calendar. **Those interested are encouraged to inquire in advance about booking a 15-minute personal reading with the spiritual guide which would take place after the ceremony
Ecstatic Dance: Join us for this freestyle dance activity orchestrated to uplift your spirit and energize your heart song. Together we will enjoy a home-made cacao truffle before allowing the music to sweep us away. We will move through a wave of effortless ecstatic flow concluding with savasana and an intentional sound healing that will leave you feeling light as a feather and clear as a bell.
Extra charges: round trip flight, any extra excursions, additional ceremonies, alcoholic beverages, spa services, travel insurance and WIFI- $3 per day or $20 for the week, or maybe forgo this and opt in for a digital detox
Pricing includes taxes: Double room $1850 // Single room $2350
Space is limited so book today! $400 deposit secures your spot!! Payment schedule to follow.
Email root2riseyogaretreats@gmail.com if you have any questions!
** Cancellation policy- This trip is non-refundable however, there is very inexpensive travel insurance that can be purchased through a third party in the event your contract COVID and cannot attend.
Retreat Leader: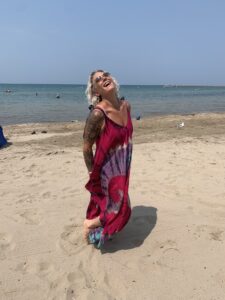 Carrie Gale – owner of Root II Rise Yoga Retreats
Carrie began her yoga journey in 2012 practicing Bikram yoga as a replacement for her regular fitness regime.  She found her body was starting to break down after a lifelong commitment to intense physical workouts and needed to find something that would be kinder to her body, without sacrificing the physical intensity.  What she didn't expect was the journey she would take to fully embracing a yogic lifestyle.  For Carrie, yoga became so much more than just a physical practice.  Yoga became a way of life which created balance and provided her with a clarity that she needed more than she knew.   For the past decade Carrie has incorporated a variety of yoga styles in her daily practice, completing certifications in Vinyasa, Rocket and Yin Yoga.  When attending one of Carrie's classes expect to find moments of challenge, pushing boundaries and finding your edge, balanced perfectly with moments of pure surrender and letting go.
---
Assisting Instructor: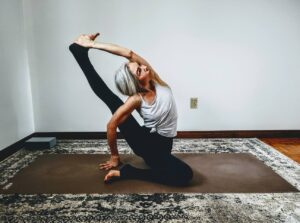 Erin – For Erin, yoga is all about finding balance that transcends the mat, touching all aspects of life. She believes every person can experience true gratitude and appreciation for their bodies through their practice. She loves helping people and creating a space where everybody feels welcome and comfortable. When attending one of Erin's yoga classes you can expect playful movement with little challenges sprinkled in. Erin loves creative sequences that inspire a curious approach without expectation.