Flow Yoga Adventure: Nourish, Relax, & Explore Lake Atitlan / Suzanne Hauserman
November 4 - 11, 2023
Ready to unwind and nourish yourself with yoga, health, and wellness? Join us as we explore the sacred and beautiful Lake Atitlan, Guatemala. This November, the most beautiful time of year, we meet at Villa Sumaya located in the heart of the Guatemalan highlands to practice yoga, to hike the volcanos, to paddle the shores, and to be in awe of the most beautiful place on earth!
This retreat will include a little bit of everything—vinyasa flow yoga in our private yoga shala, hiking, paddleboarding/ kayaking, evening meditation, healing treatments, Mayan fire rituals, and plenty of time for exploring the rich culture of Guatemala. Prepare to reconnect with yourself, rekindle your sense of adventure and curiosity, make new friends, and leave feeling balanced and restored.
PRICING
Depending on accommodation type, pricing ranges from $1850 -$2350. Includes all your meals, a Mayan ceremony, daily yoga, evening Restorative/Mediation, and a special Cacao experience and ritual. We offer up to 8 payments to help break up the cost with a deposit required at sign up. Full price must be received by 10/1/23; we will adjust your payment plan if needed to help make this happen.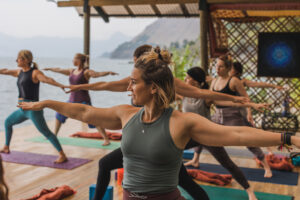 WHAT'S INCLUDED
Daily vegetarian breakfast, lunch, dinner – fresh, locally grown cuisine; Fish and Chicken offered for an additional cost
Unlimited drinking water/coffee/specialty retreat teas
Daily Yoga
Evening Restorative/ Yoga Nidra
Mayan Fire Ritual
Cacao Experience and Ritual
Private Water Taxi to Villa Sumaya
Use of the Pool
WHAT NOT INCLUDED
Shuttle from Guatemala City to Panajachel
Airfare to Guatemala
Juices/ Espresso/ Alcoholic drinks during your stay
Additional excursions will be offered for a fee
ADDITIONAL EXCURSIONS & AMENITIES
Healing Spa Services
Hot Tubs
Exploring nearby villages and markets
Sunrise Volcano hike
SUP/ Kayaking tour
Private Meeting with the Shaman
Juice Bar
Apothecary Assistance
HOW TO SIGN UP
In order to reserve your spot, a non-refundable deposit is required. Payment in full is due no later than 10/1/2023; monthly payments offered as soon as you sign up but can be modified if you are short on time till the trip. Please note that all payments are non-refundable after 7/1/2023. Deposit is non-refundable. Substitutions can be made if you have someone who wants to buy your spot. Please inform us asap if this happens. *Travelers insurance is suggested to cover any last minute cancellations or family emergencies you can't foresee.
TEACHER BIO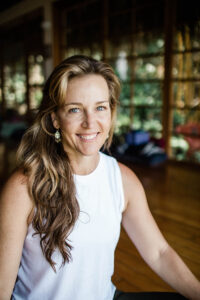 Suzanne has been leading global Retreats and Adventures for over 8 years, and teaching Vinyasa/Power Yoga for over 14. She owns a Yoga studio in Colorado for the last 6 years. She is also a Rolfer (bodyworker) specializing in body mechanics and anatomy; studying how the body moves and how it can move more efficiently. In the summer she leads Paddleboard Yoga classes on the water. In her classes you can plan to be challenged and energized in her flows to music as well as to feel a deep sense of grounding and peace to support your retreat. Her evening meditation classes will be based in breathwork, utilizing Yoga Nidra as well to help nurture the serenity and peace as well as Restorative Yoga.