The Deep Dive: A Full Yoga Immersion / Erin Prichard
February 4 - 11, 2023
Join Erin on an epic journey to one of the most blissful and beautiful places on earth, Lake Atitlán in Guatemala. This is more than just a retreat, it is a chance to fully immerse yourself in yoga, it's teachings, and nature.
This colossal week will entail all of the elements of a training, without the teaching aspect! You can opt in or out of as much as you want throughout the week. We will be exploring the rich philosophies and teachings of yoga by looking at it's history and a few important texts. We will have discussions on how to live an embodied yoga practice and what the philosophies mean in a practical way.
We will have workshops to breakdown asanas, as well as pranayama and chanting to gain a deeper understanding for your own practice. You will also have plenty of time to enjoy the astounding beauty of the lake and to relax, renew, and recharge. A full reset!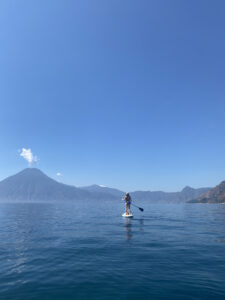 A typical day…
Watch sunrise/meditative walk/morning swim
8-10am Vinyasa, meditation, pranayama
10-11am Breakfast
11-1pm Embodied philosophy and history of yoga
1-2pm Lunch
2-4pm Free time to hike, rest, or explore the lake
4-5pm Asana clinic & workshops
5-6.30pm Restorative, pranayama, yoga nidra
Watch sunset
7pm Dinner
Things to do at the lake include…
Hiking, swimming in a volcanic lake, paddle boarding with some of the most spectacular views, watching sunrise and sunset, treating yourself to a body treatment, simply enjoying peace and tranquility.
Teacher Bio: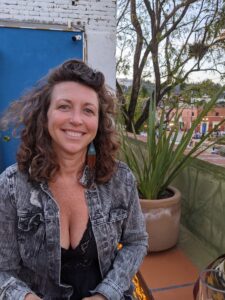 Erin truly believes yoga can be a profound practise of healing, awareness, connection and empowerment. She has been practicing for more than two decades and teaching yoga since 2004. She leads 200 hour foundational yoga trainings, advanced yoga teacher trainings, and mentorship programs to support yoga teachers. She has had the privilege to teach and facilitate yoga both in the UK and globally in a wide range of settings, including Wandsworth prison, SEN schools, refugee centres, charities, businesses, international retreats and studios. She has recently become a TCTSY-F (Trauma Centre Trauma Sensitive Yoga Facilitator) and offers trauma-informed yoga both privately and in small groups.
Erin's teaching style is a combination of all traditions and schools she has learnt from including Hatha, Kripalu, Vinyasa Krama, Iyengar, Ashtanga, and Trauma informed Yoga. There is a strong focus on philosophy and inclusivity. Her classes may touch upon current events, human relationships, the nature around us, Buddhist principles, and karma yoga. She remains forever grateful to those who have influenced her teaching, including  Richard Freeman & Mary Taylor, Stewart Gilchrist, Sri. V. Sheshadri, Mark Morford, Matthew Sanford, Seth Powell, Emma Henry, Sam & Annaka Harris, and Thom Yorke. When not on the mat, she can be found surfing, exploring nature, or lying in a hammock. Erin currently splits her time between London and Mexico.