Sacred Feminine Practices at Lake Atitlan: Shakti Cacao with Azul Anaité
December 10 - 17, 2022
Each woman carries her wisdom inside herself. At this point in time, each woman must find her magic so she can become her own medicine. For this, Cacao invites us to come into our own bodies.
This retreat will be a space to let go of inherited beliefs, to recover our self-worth and take the authority to find our own destiny.
During 7 days we will have a time of deep wellbeing, restructuring, beauty and self care where you will be the most important thing, we will see how care and self love can take us to our own flowering.
We will follow the guidance of the Mayan Worldview so we can find our life mission, the energies that accompany us, and those challenges that have turn into blessings.
In our bodies we can find the history of our linage, our ancestors live in us, but our ancestors are not just the woman of our families, but the female presence that has existed in this planet sense the beginning of time, our ancestors are the volcanoes, the lakes, the clouds, the stars, the flowers, our ancestor is the earth herself.
About the teacher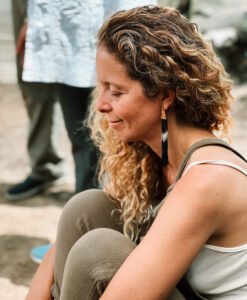 Azul Anaité is a ceremonialist woman and ritualist, guardian of the sacred feminine. She holds workshops, circles and trainings for women who wish to awaken their magic, to find the gifts that are hidden in their history, as well as remembering the path of taking nature as a life guide.