A Journey Within: Yoga, Culture & Reiki Retreat / Yuval Samburski and Anne Koza Patrick
March 18 - 25, 2023
A RICH AND UNIQUE EXPERIENCE LED BY YUVAL SAMBURSKI & ANNE KOZA
Join Yuval & Anne for a week to…
Reconnect to your soul and immerse yourself in a week of transformative yoga and Reiki, healing music, cultural excursions and sacred Mayan ceremonies. During our time in beautiful Guatemala you'll experience the freedom that comes with remote travel as you strengthen your relationship with your heart and the natural world.
Our retreat is located on the banks of Lake Atitlan, Guatemala is on the list of "10 most sacred spots on Earth" and the "The Belly Button of the World" or  the Solar Plexus Chakra, which governs leading us forward, in support of a stronger, healthier more empowered self. During our week together you'll be nourished through all your senses and feel your Prana, vitality, and spirits lift with each day. This incredible off-grid holiday is the perfect place to take a break from the daily stress of everyday life and rekindle your inherent joy within.
Ready to take the plunge? Join
HERE
or email us:
We are both mindful and caring, goofy and fun. We hope you'll join us!
Sound Healer, Yoga Instructor, Teacher Trainer and Mentor, E-500RYT, YACEP and Reiki level 2.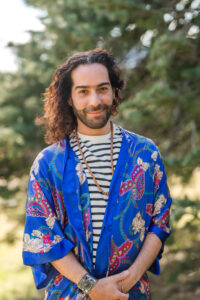 Yuval is Lead-Faculty at Kripalu Center For Yoga & Health in the Berkshires. He has been creating and leading programs, retreats and teacher trainings all around the world since 2014 (notable are India, Israel, England, Nicaragua and Panama).
Yuval began his teaching career in 2012 (Yogaworks, NYC) and in 2015 became a teacher trainer (200HR & 300HR). He led trainings in China, New York, NY, Boston, MA,  and Memphis, TN.
Yuval is best known for his deep, soulful chanting and signature Live-Music Sound Healing sessions as well Vinyasa Flow classes, Pranayama teachings and Restorative work (he is known to cast deep-healing spells on his students).
Yuval's teaching style is mindful and fluid, linking all movement back to the breath and providing a safe and warm environment for students to explore their own selves, making their own self-discoveries through practice.
With experience in performance and art, Yuval is inspired by all creation and the undeniable power of breath and meditation. His teaching is personal, nurturing and humorous, allowing for self-observation and a true teaching and learning experience between him and his students.
Find Yuval on Instagram: @UVYBoogie
E-RYT 500, YACEP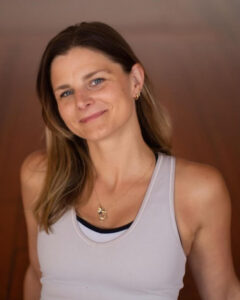 Anne is an adventurous and playful yogi at heart, Anne believes in the connecting power of yoga. Teaching since 2009, Anne leads with a desire to create a supportive space for her students to reconnect to themselves through being present in breath and to explore through mindful movement. She designs her sequences to be both challenging and rejuvenating. Deeply caring about the structural alignment of each pose, Anne first addresses the physicality, then layers in the subtle elements of the practice.
With a degree in Biology and Psychology, Anne studied the impact of yoga on the mind and body and believes in yoga's inherent value for holistic wellbeing. Anne received her 200HR from Back Bay Yoga, and her 500HR from Super Soul Farm led by Raghunath Cappo, where she spent a month living and learning at Radhanath Swami's Govardhan Eco Village in Mumbai, India.
Anne is a visiting faculty member at Kripalu, teaches classes and workshops around the Boston Area, and has hosted international retreats around the world. Anne knows that often times things don't work out according to plan, but it's in the discoveries we learn along the way we get to know the beauty of ourselves and the world.
Anne has a cat named Charlie, a community garden plot she loves to dig in, and when traveling enjoys sitting with a cup of coffee in a corner cafe and just watching the world go by.
Find Anne on Instagram: @annekozayoga