Yoga Retreat At Lake Atitlán / Stacie Finucan
February 3 - 10, 2024
Journey with Stacie into the Guatemalan highlands to discover a retreat paradise on the edge of one of the world's most beautiful lakes.
Surrounded by volcanoes and reputed to be a powerful energy vortex, Lake Atitlán is a sacred destination for locals and adventurers alike. At gorgeous Villa Sumaya, you can play on the lake, relax in your hammock on your private deck, swim in the pool & soak in the hot tub, and explore the lush surroundings in between yoga sessions with Stacie.
Join us for a magical week of movement, meditation, nature, healing ceremonies, and delicious local cuisine… all of which is guaranteed to fill your cup with vitality, sacredness, and serenity.
Included In Price:
7 nights of lake-front lodging
3 meals per day at Café Sumaya Sol
2 yoga classes per day (Flow, VinYin)
Morning meditation
Sound Healing Ceremony (hosted by Villa Sumaya)
All taxes
Optional Add-Ons:
Kayak Rentals
Reiki Sessions
Spa Offerings (Massage, Ayurvedic treatments, Mayan astrological readings)
Traditional Mayan Fire Ceremony
Cacao Ceremony
Sweat Lodge
Not included: Roundtrip airfare from US to Guatemala; Roundtrip ground transportation from Guatemala City to Villa Sumaya; Alcoholic beverages; Optional add-ons as noted above.
We suggest booking a flight that arrives in Guatemala either on 02 February 2024 or early morning on 03 February 2024. From La Aurora International Airport (GUA) in Guatemala City to Lake Atitlán, it's a scenic drive (approximately 3.5 hours) across Guatemala's mountainous landscape. In Panajachel, you'll board a private lancha for a 10-minute boat ride to Villa Sumaya's dock. Details regarding lodging options near the airport for the night of 02 February and for ground transportation will be provided.
We will spend time each day dining together and practicing yoga. There will be plenty of free time for massage, hot tub, rest, time at the lake, hiking, and exploring Mayan villages.
On the morning of 10 February 2024, we'll close our adventure together; group ground transportation will be arranged to La Aurora International Airport or nearby hotels for those who will fly home on 11 February.
---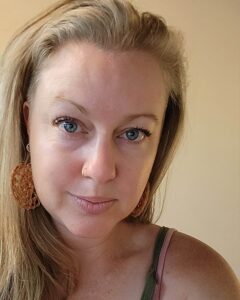 Stacie Finucan was ushered into the world of yoga through her mother's passion for hot yoga and desire to create a yoga studio with which to share the love. New to yoga, but already steeped in performing arts and philosophical studies, Stacie found her passion and gift for guiding students through classes of all styles after completing 500+ hours of training with Bikram and 500+ hours with Baron Baptiste. Since 2004, Stacie has continued learning, taught full-time, owned and operated studios, led trainings and workshops, and joyfully hosted international yoga retreats in Mexico, Costa Rica, Belize, and Italy. Stacie's classes are infused with her excitement for biomechanics and her talent for weaving words, both of which allow her students to get out of their minds and dive deep into body and spirit. When not in the yoga room, Stacie is blissfully immersed in her home life with three amazing children, an inspirational husband, and a menagerie of pets.