Sacred Solstice Special 2023
with PAOLA CAIRE and MICHELLE MARGARET
June 17 - 24, 2023
(4-12 participants)
Summer Solstice in June is an ideal time to turn inward on retreat at gorgeous Lake Atitlan. June is part of our lush green season and typically features sunny mornings followed by afternoon or evening rains. In celebrating the Solstice, we treat it as a sacred time of reflection, letting go, restoration, and rebirth.
Indulge in daily yoga practice, three sacred Solstice ceremonies throughout the week and plenty of down time for additional spa services, relaxing in a hammock or hot tub, reading, writing, reflecting and connecting with fellow travelers.
What's Included
7 nights of deluxe accommodation
Daily vegetarian meals and unlimited water, tea and coffee
Five group yoga classes (9:30-11:00 Mon-Fri)
Opening Cacao + Sound Healing Ceremony
Temazcal + Cacao Solstice Ritual (featuring a cacao drink and cacao salt scrub)
Closing Mayan Fire Ceremony
All taxes
Not included: transportation costs, tips to Villa Sumaya staff, optional tours & activities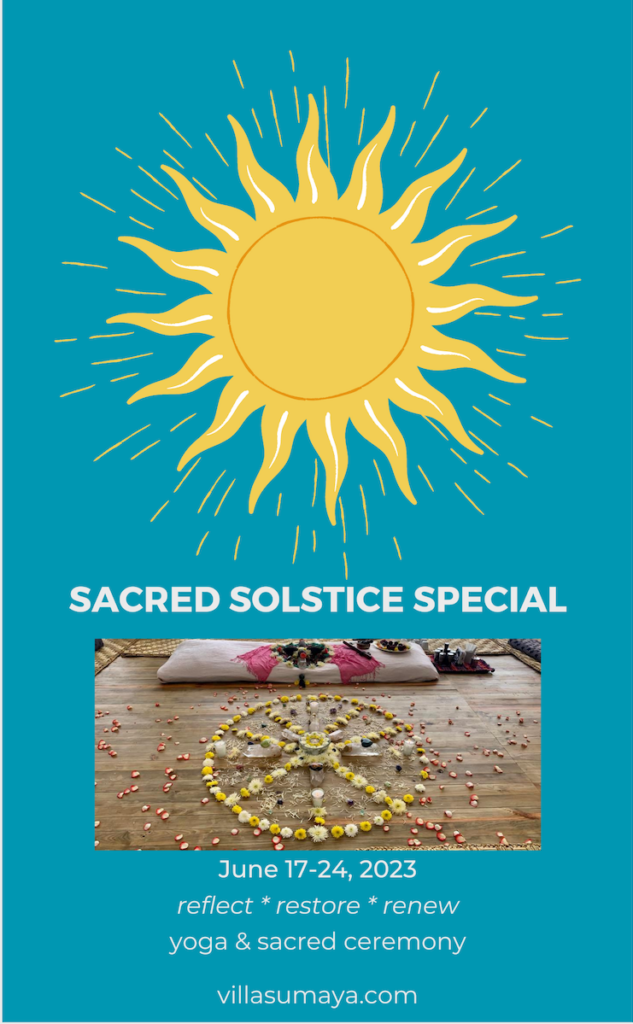 Rates & Registration
Pricing: $1899 single in deluxe accommodation / $1735 single Bungalow
$1450 per person in a double Maya Rose room
Online registration is open online for single rooms and friends traveling together.  Rates vary, depending on room selection.
Please email reservations@villasumaya.com with any questions.
Leaders