Breath Is Life – Retreat/Training / Laurie Ellis-Young
January 13 - 20, 2024
Develop your Superpower: The WHY, WOW & HOW Your Breath Can Change Everything.
Learn – Embody – Transform – Teach
Laurie Ellis-Young is passionate about bringing people to breathe together in one of her favorite places on Earth. Just being in this special spot is transformational; add "The Power of Breath" and it becomes pure magic.
This retreat/training is for you if:
You are a professional who helps others to heal or reach their highest potential

You are open to a magical and nurturing experience of a lifetime 

You yearn to be part of a growing global family of wellness providers and peace builders

You desire to learn and embody 'Breath Literacy' for yourself as your superpower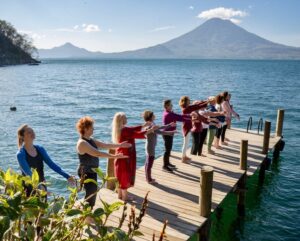 Why Teach Breath?  Why Now?  Why "Breath Is Life"?
The importance of breath is in the news! The world is ready wanting to learn and know more from qualified instructors. "Breath Is Life. Taking In and Letting Go: How to Live Well, Love Well, BE Well" is an award-winning master course on Breath Literacy. (Categories of Health / Health & Fitness / Mind, Body and Spirit / Best Overall Design / Bill Fisher Award for Best First Book.)
Breath Literacy

= the wisdom and knowledge of how to breathe optimally, moment by moment, breath by breath, and in circumstances all throughout life.  
Why Lake Atitlan? 
The unparalleled beauty and power of this Mayan paradise helps retreatants relax, revitalize, refocus, reset, and leave informed and transformed, ready to make a difference in the world.
Why Your facilitator?  
"Laurie teaches with mastery and heart like I've not experienced before." ~2022 Retreatant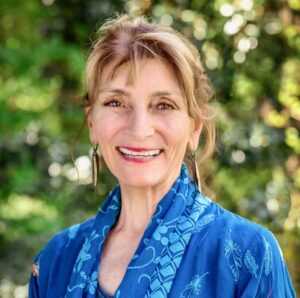 Laurie's mastery is derived from 40+ years of studying Eastern and Western sciences and techniques of well-being: Master's degree in Therapeutic Counseling emphasizing breathwork (MTC), Senior Yoga Teacher (SYT) 1000 hours -UK Yoga Alliance, Mindfulness Based Stress Reduction instructor (MBSR), and other multiple wellness certifications. She is founding-director of Breathe The Change LLC, co-founder of nonprofit BreathLogic, an award-winning author, SHIFT Peace Ambassador, reforester, rainforest preservation activist, and globe trotter who has visited 90+ countries and led groups to over 20.
Her heartfelt facilitation is honed by 4+ decades of sharing Breath Literacy with diverse populations of all ages on six continents: individuals and groups desiring personal and professional empowerment along with those experiencing multiple types of trauma, stresses, illnesses, grief, poverty, war, sex trafficking, marginalization etc.
There are 2 choices of how to experience this retreat/training:
7 Nights at the Villa Sumaya, Saturday to Saturday, January 13-20
Addition of 5 days/4 nights prior to retreat: 3 in Antigua / 1 on Lake Atitlan
What's Included at Villa Sumaya
Roundtrip transportation to/from airport and Villa Sumaya

7 nights single or double accommodations in Lotus House, Ginger Suites or Sky Bungalows (Possible triple accommodations discount)

Exquisite indoor and outdoor training/practice facilities

3 scrumptiously delicious and nutritious vegetarian meals (fish or chicken may be requested for an additional fee)

Unlimited purified water, herbal tea, and local coffee

All training instructions (applicable to all levels) 

All practices including yoga (all levels).

Award-winning Book- "Breath Is Life. Taking In and Letting Go: How to Live Well, Love Well, BE Well" 

Training manual for "The Power of Breath" and BLIPP (Breath Literacy's Instant Power Practices) charts

Completion certificate, Breath Is Life Trainer, Level I or II

Serendipitous surprises, cultural interchanges, ceremonies

Hiking / Special connections with locals

Front desk reception staff available 24-hours a day

One personal session for individual consultation (after retreat)

Opportunities for connection and teaching with BreathLogic
 What's Not Included:
Airfare to/from Guatemala City

Gratuities

Wifi

Harmony spa services

Adult beverages
Price: Single Occupancy: $3,499 Double Occupancy: $3,099 (please inquire about triple accommodations discount)
Deposit: $500 non-refundable upon registration, $1,000 due 30 days later with additional payments flexible. Total due by Dec. 13, 2023. 
 Fabulous 5-day Add-on Prior To Retreat: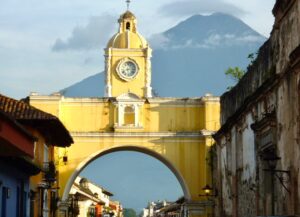 Having lived various years in Guatemala, facilitating retreats for decades, Laurie realized retreatants like to be met upon arrival and have time for transition and appreciation of the unique beauty and culture around them. Thus she adds five days: four in the charming colonial city of Antigua and one extra day on Lake Atitlan. (Small group limitation.)
Whenever you arrive on Jan 9, you will be met at the airport and spirited away to the luxurious Hotel Museo Spa Casa Santo Domingo. This is the perfect place to transition from "daily life" to adventure and retreat. 
What's Included for Add-on: (limited to very small group)
Personal meeting at Guatemala City airport and transportation to Antigua hotel

3 nights double accommodations

 at the stunning Hotel Museo Spa Casa Santo Domingo Jan 9-12 (Trip Advisor names it "The Best of the Best"

1-night single accommodations at the world-famous Casa Del Mundo hotel outside Jaibalito, Lake Atitlan

Transportation within Guatemala

8 delicious vegetarian meals (some chicken and fish), experiencing delectable and unique dining experiences

Group gratuities and taxes

Walking tours / shopping opportunities / special cultural experiences

Special Practices

Serendipitous surprises along with free time for the museum, spa and R&R

Excursions to Valhalla Macadamia Farm and the exquisite Mayan ruins of Iximche

Ceremony with Mayan shaman
What's Not Included for Add-on:
Some meals

Expenses during free time

Adult beverages
Price: $1,799.00
Deposit: $500 non-refundable upon registration, $500 due 30 days later with additional payments flexible. Total due by Dec. 13, 2023. 
For further information and to register contact: Laurie@BreatheTheChange.com