Women Who See in the Dark / Araminta Barbour
December 9 - 15, 2023
Imagine…
A circle of women gathering to rejuvenate, celebrate and explore their untapped creative power.
A week in paradise held in a luxury retreat space on the shores of the most beautiful lake in the world.
Nurturing practices designed to restore your inner peace combining darkness meditation, dream work, art and creative expression.
Deep inquiry through tantric and shadow integration practices.
Delicious healthy meals, yin yoga, saunas, hot tubs, hammocks and divine accommodation.
From December 9th through 15th, Women Who See in the Dark will bring its powerful body of work to Lake Atitlan, ancient place of power in the Mayan highlands of Guatemala.
At the luscious setting of Villa Sumaya, our lakeshore luxury resort, join Araminta Barbour and her team of special guest teachers for a week of deep introspection and expansion in a circle of Sisters.
What Will We Explore?
– Darkness Meditations
– Masculine Integration
– Un-masking
– Lucid Dreaming Teachings
– Shadow Integration
– Creative Ritual Expression
More About Araminta & WWSITD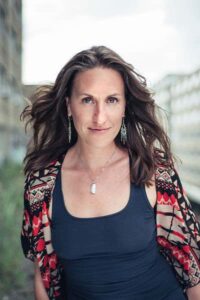 Araminta is a Lead Facilitator with The International School of Temple Arts (ISTA), Founder of The Sanctuary Guatemala, and co-founder of the Women Who See in The Dark retreats. She has guided intensive, transformational retreats in over 20 countries specialising in tantric shamanic teachings, and sacred sexuality. Guatemala and Lake Atitlan has been her home for 16 years.
"My life's path has been shaped most deeply from the sudden death of a partner when I was 19 and the deep grief, travel, and questioning of collective beliefs that his loss led me to.
I now support people to transform painful experiences into power, heal from parental and relationship wounding, step-free from sexual or emotional abuse, and navigate the psychological hurdles to self-acceptance, self-belief, and self-love. My deeper focus is awakening to expansive levels of Self untangled from collective consciousness."
Araminta utilizes skills from Meditation, Non-dual Spirituality, Shamanism, Sacred Sexuality, Tantra, Breathwork, Yoga, Bodywork, Shadow Integration, Evolutionary Astrology, Emotional Release, and Initiatory rituals. Her teachings aim to bring together the tools and maps that reactivate our full human capacities. Araminta's core passion is the process of radical self-acceptance – the inner marriage of love with power.
"In 2016, Komala Lyra and I launched Women Who See in The Dark as the ultimate retreat we always wanted to take. A mixture of resourcing ourselves with profound depth of enquiry. This event has been hosted around the world. It now returns to Guatemala where it was seeded and is updated with new Lucid Dreaming teachings to further our inner work with our subconscious."
Special Guests:
Araminta will be accompanied by Zsuzsa Kohan and Harmony Rose, gifted guest teachers in yoga, sound healing and transformation.