Radiant Renewal Yoga Retreat / Lee Wotherspoon
January 6 - 13, 2024
Join Lee in the heart of the majestic highlands and tranquil shores of Lake Atitlán, Guatemala for an immersive yoga + wellbeing retreat.
Experience a daily practice elevated by the beauty of nature and the power of sacred place. This journey to Guatemala will be a transformational adventure. Come, recharge your sense of wonder and harmony. This truly will be a radiant renewal of body and soul.
The retreat includes daily morning yoga to rise and shine overlooking the splendor of the lake. Late afternoon restorative yoga will attune to the tranquility of the environment. Morning and afternoon yoga sessions will include asana (poses) pranayama (breathwork) and meditations inspired by the Radiance Sutras. Lee's teaching offers an accessible, relevant approach to yoga's ancient and powerful practices.
In addition to exploring the wisdom of yoga we will be immersed in nature and experience Mayan culture. We will gather for one sacred Mayan cacao ceremony and adventure out together on one guided excursion on the lake. The schedule provides ample independent time for rest, reflection and exploration of your own.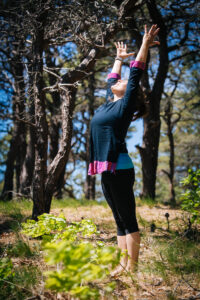 Our accommodations are at the stunning Villa Sumaya. Along with beautiful rooms at this award winning eco-chic retreat and wellness center, the following are included in the retreat:
Three delicious, home-cooked, well-balanced, vegetarian meals per day
Optional chicken and fish, wine and beer available for extra fee
Unlimited tea, coffee and purified water at the 24/7 beverage bar
Morning alignment flow + afternoon restorative yoga classes daily in the beautiful studio
Mayan cacao ceremony
Kayak + hiking excursion (other options may be available, inquire if you need an alternative)
Solar heated hot tub and wood burning sauna
Lush gardens, hammocks and cozy shaded or full sun sitting areas
Fair-trade boutique stocked with local treasures and custom designed Eco Sumaya crafts
Healthy snack and juice bar offering delectable raw treats, exotic smoothies, and homemade kombucha
Optional spa treatments including massage, facials, consultations, esoteric readings and more
---
Lee Wotherspoon, MPH, E-RYT
I first discovered yoga at age 18 and my early practice was guided by books and self-study. I remain drawn to yoga for the quiet, reflective nature of that practice and for how the poses and breath work challenge me to find the fine balance between effort and ease. I believe there is much joy and deep connection to be found when we attend to presence and experience the felt sense of inhabiting each moment. I appreciate yoga as a path of self-inquiry. One that cultivates strength and flexibility of body and mind so that we may feel better and be in better relationship with each other. My passion for teaching yoga is rooted in a desire to promote both individual and community health. I find inspiration for practice everywhere; ancient wisdom & neuroscience, poetry & politics, nature & nurture.
I completed a 250-hour yoga teacher training at Yoga Vidya Gurukul, in Nasik, India in 2006. There, I participated in a research project demonstrating the effect of holding yoga poses on lowering blood pressure. More importantly, I was immersed in Indian tradition and developed a deeper understanding of ancient yogic philosophies. I am still tremendously grateful for that humbling experience. I later completed a teacher training apprenticeship with mentor Zack Dixon of Quiet Mind Studio and Level I and 2 Thai Yoga Bodywork training with the Lotus Palm School.