Subtle Body & Healing Practices Training / Anne Koza & Yuval Samburski
December 2 - 9, 2023
**THIS PROGRAM REQUIRES AN APPLICATION
Thank you for your interest in going deeper into your yoga journey. We, Anne and Yuval (UV), are extremely excited to offer this continuing education training, sharing our knowledge and expertise on the subjects of healing practices & the subtle body. The program is specifically geared to support you as you explore different modalities of healing, and focus on a direction of your own, a direction to eventually unlock your full potential as a facilitator.
And what better place to embark on this journey, then at the magical Villa Sumaya in the spirit-filled Lake Atitlan in Guatemala.
Please read the below description and feel free to ask us any questions via email. We would love to welcome you on this sacred path of higher education in yoga and the modalities of healing arts.
In service,
Anne and UV
General information:
Villa Sumaya means "the place where dreams come true" and the lake is considered "the belly button of the universe", a strong and powerful spiritual and energetic center. The lake, as the solar plexus chakra, is supportive in manifestation, making dreams into reality, and setting one on their own deep spiritual path (as long as they are willing to do the work, of course). An important place for Mayan Shamans and culture, the lake as a whole, and Villa Sumaya specifically are the most perfect places to do such deep inner work, and to set oneself on a professional teaching and healing path. A path that is tailored to each individual's needs, desires, abilities and Dharmic journey.
While on site, enjoy stunning views, local excursions (not included), home cooked, locally sourced, vegetarian meals, and higher vibrational energy that supports your efforts at every step. There is no better place to put your efforts towards your inner, authentic goals as a yoga instructor.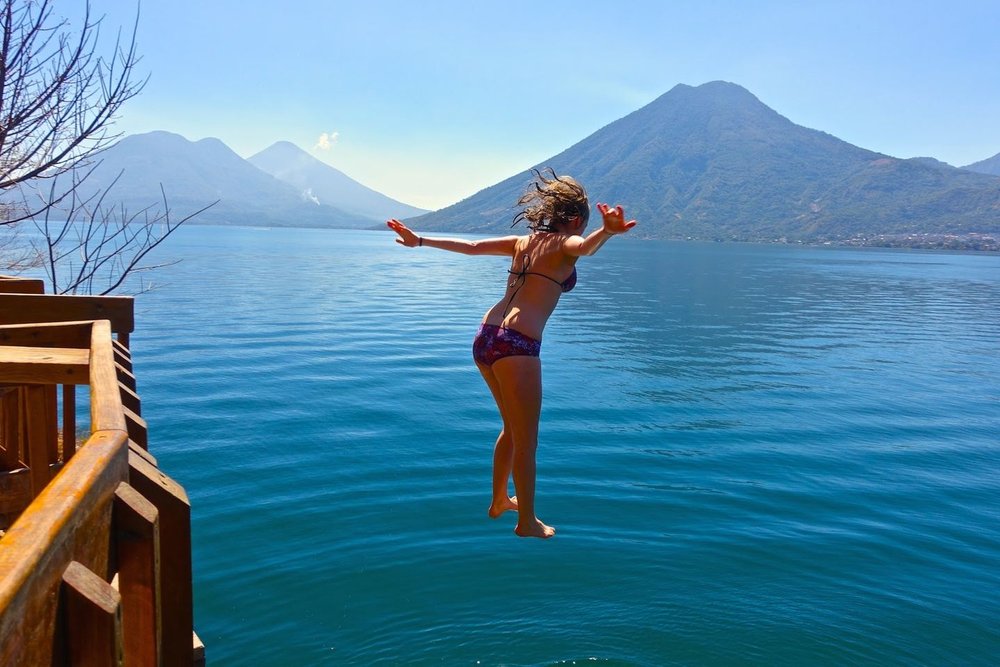 This training will focus on "Healing Practices & Subtle Body", and will serve as an introductory course to different modalities of healing. Combined with a personal mentoring aspect, offered by Yuval and Anne, each participant will be set on a path to decide, which modalities they would like to dive into more deeply in their own life.
Topics of study include:
Yin Yoga
Restorative Yoga
Pranayama
Reiki
Sound Healing
Chakras
Koshas
Private mentoring session with Anne or Yuval
Local healing modalities in partnership with the local staff at Villa Sumaya such as: Demesca: Mayan fire ceremony with a local Shaman.
"This trip is life changing! Yuval and Anne create beautiful space in a stunning environment for you to let go, go deep within yourself and find peace and your true self. Villa sumaya is a magnificent experience with wonderful people there to help you."

— Spring 2023 Retreat participant
Training Dates:
The training will take place at Villa Sumaya in Lake Atitlan, Guatemala. The training starts on Saturday, December 2 (check in time is 3PM) and ends on Saturday, December 9 (check out time is 11AM).
Cost:
Training tuition: $1,200 per person. **Accommodations and meals are not included in this price.
Accommodation & Meals: $1,470 (single), $1,120 (double), or $945 (triple) occupancy.
After you have been approved to join this training, you will receive a link to book your accommodation. All meals are included in the accommodations price.
How to apply:
To join the training, please fill out THIS FORM. We will review it closely and reach out back to you within 7 days of your submission. Once accepted, you will submit your deposit to us and will be guided to Villa Sumaya to complete your accommodations booking. Please note deposits are non-refundable.
Contact us:
For any questions:
Anne: Annie@annieom.com
Yuval: UVYoga@gmail.com
We would love to hear from you!
"I had an amazing time practicing yoga, visiting near by towns and eating delicious homey food. Both Yuval and Anne are such amazing yoga teachers and healers. Villa Sumaya retreat center was beautiful and the staff were super kind and helpful. Would go back again without batting an eyelid."

— Spring 2023 retreat participant
What's Included (with payment of tuition + accommodations/meals):
Training courses: Theory and information session in the subjects: Yin & Restorative yoga, Reiki, Sound Healing, Pranayama, Subtle Body, Koshas, Chakras & more.
7 night accommodations at the beautiful Villa Sumaya Eco-Chic Wellness Center, on the picturesque shore of Lake Atitlan
Private mentoring session with Anne or Yuval
Experiential Sessions: Sound Healing, Reiki, Restorative & Yin Yoga, Pranayama
Shaman Healing sessions: Sacred Mayan fire ceremony with Shaman, Sweat Lodge Ceremony
Meals: Three healthy and delicious daily. These meals are home cooked, well balanced, and vegetarian (adding chicken and fish to your meal is available at an extra cost)
Beverages: Unlimited coffee / tea / filtered water available for you to enjoy when you like throughout the day
Wifi
What's NOT included:
Flights: Flight to/from Guatemala City
Transport: Transport to/from Villa Sumaya (car + boat transfer). Transport will be arranged by us, at your own cost
Extras: Beer/wine or any snacks from the Villa Sumaya Smoothie / Juice Bar
Spa treatments: Spa treatments at on-site Harmony Spa
Private Sessions from on-site staff: Facials, Deep Healing Treatments and more, are available for purchase on site
Tips: Tips for Villa Sumaya staff
Excursions: Colorful day boat trips: San Juan artisan craft shopping, visit to San Pedro, visit to San Marcos are available for you to explore on your free time
Meet Your Trainers
Anne Koza
E-RYT 500, YACEP, Anne is an adventurous and playful yogi at heart, Anne believes in the connecting power of yoga. Teaching since 2009, Anne leads with a desire to create a supportive space for her students to reconnect to themselves through being present in breath and to explore through mindful movement. She designs her sequences to be both challenging and rejuvenating. Deeply caring about the structural alignment of each pose, Anne first addresses the physicality, then layers in the subtle elements of the practice. With a degree in Biology and Psychology, Anne studied the impact of yoga on the mind and body and believes in yoga's inherent value for holistic wellbeing. Anne received her 200HR from Back Bay Yoga, and her 500HR from Super Soul Farm led by Raghunath Cappo, where she spent a month living and learning at Radhanath Swami's Govardhan Eco Village in Mumbai, India. Anne is a visiting faculty member at Kripalu, teaches classes and workshops around the Boston Area, and has hosted international retreats around the world. Anne knows that often times things don't work out according to plan, but it's in the discoveries we learn along the way we get to know the beauty of ourselves and the world. Anne has a cat named Charlie, a community garden plot she loves to dig in, and when traveling enjoys sitting with a cup of coffee in a corner cafe and just watching the world go by.
Yuval Samburski
E-RYT 500, YACEP, Yuval is an Israeli-born, NYC-based yoga instructor, teacher trainer and mentor, sound healer and Reiki practitioner. He has a background in the performing arts, photography, and dance; has appeared in films and on stage in New York and Washington DC; and holds a degree in music technology from New York University.
Yuval is best known for his deep, soulful chanting and signature live-music sound healing sessions as well Pranayama teachings, Vinyasa and restorative yoga. Yuval's teaching style is mindful and fluid, linking all movement back to the breath and providing a safe and warm environment for students to explore their own selves, making their own self-discoveries through practice. You can count on smart sequencing, grounded in clear alignment cues, strong breath awareness, and core stabilization. Yuval is a teachers' teacher. Yuval is lead Kripalu faculty and has led teacher trainings all over the world including China and the US, and is often leading retreats all over the world as well. His private work is dedicated to healing, through any or all modalities available to him.
Find Yuval on Instagram: @UVYBoogie
Listen to Yuval's music here: https://youtu.be/bgxtKLgKkyg
We are both mindful and caring, goofy and fun. We hope you'll join us!
Namaste,
Yuval and Anne