Build Your Soul Vessel Retreat / Kimberly Jeffs & Nora Fenner
February 23 - 29, 2020
In 2020 we are traveling to a high vibration spiritual location that is considered a counter vortex between the volcano's and the lake crater at the gorgeous retreat center of Villa Sumaya. Villa Sumaya has majestic views of the lake, is an all inclusive retreat center and will host our retreat participants with a variety of adventures to local villages, artist markets, coffee plantations, adventures volcano hikes and water sports.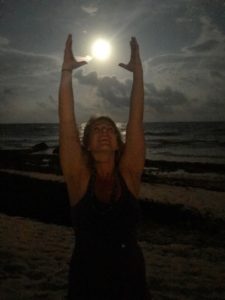 You will be introduced to indigenous culture in the highlands of Guatemala where Mayan culture resides. You will explore the depths of volcanic slopes and the lake that spreads out for miles. Its shores reach for and nurture nine lakeside communities, described as a shelter of peace and a place of awe.
Cost:

Single (Queen or King bed in single occupancy room lakeview room in lotus house) $2150/person

Shared (twin bed in triple occupancy room lakeview room in lotus house )$1850/person

Kim Jeffs, MA, LPCS, SEP (licensed professional counseling supervisor, somatic experiencing practitioner)
Owner of NC Center for Resiliency, PLLC
 About Kim: Kim is currently (beyond) inspired to be working with retreat participants around their connection to their body, mind and spirit. Kim has lead groups and retreats locally for years and has helped with empowering hundreds of people after traumatic life events having worked as a somatically- integrated psychotherapist for the last 17 years. Kim worked for Kripalu for several years (one of the country's largest yoga and educational retreat centers and where she met her husband, Patrick) and has additionally co-owned a Peruvian travel company. Kim has helped thousands of retreat guests navigate personal and professional retreat intentions and training while away from home. Kim will be a great resource to help you navigate your retreat whether you are a seasoned international traveler or this is your first trip!
Nora Fenner, Yoga Instructor
About Nora: Nora Fenner received her 200-hour yoga certification from Sundari Yoga Studio in 2004 and recently completed her 300hr yoga certification at Kripalu Center for Yoga and Health. She found yoga through attending fitness classes at her local gym and fell in love! Nora began practicing Ashtanga yoga over 10 years agon and has attended workshops with Manju Jois, David Swenson, David Williams, Angela Farmer, Bryan Kest, Simon Park and a few others. Nora brings a light cheer, peace and a well-balanced physical and mental practice to her classes. She feels the practice guides her to inner peace and strength and she is excited to offer a yoga movement practice each morning of the BYSV retreat! She looks forward to connecting with you.
Website for more details