Hola Guatemala / Jane Thibodeau & Lisa Messina
January 25 - February 1, 2020
An immersion into Guatemalan culture coupled with therapeutic movement and self-exploration.
Join Lisa Messina and Jane Thibodeau for a nourishing adventure on the stunning shores of Lake Atitlan. This retreat provides time and space for soul-nurturing experiences in a luxury retreat centre. Wake up to beautiful views of the majestic lake and surrounding volcanoes. Indulge in a variety of spa services and a colorful menu of wholesome delights. Immerse in Mayan culture with three all-inclusive excursions led by Jane, a professional international guide to over hundreds of people visiting Guatemala. Steep in self-exploration through intentional, therapeutic movement and body-based healing led by Lisa, an expert in the field of holistic wellness.
Treat yourself to an enriching and meaningful adventure in deep connection with yourself and other like-minded beings.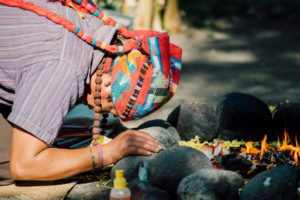 What's Included:
-7 nights in luxury accommodations. All rooms include private bathroom, lake view, and inspiring outdoor space.
-3 meals per day. A vegetarian-based, eclectic blend of local and international cuisine created from Guatemala's local fruit and vegetables (chicken and fish available at extra cost.)
-24/7 herbal tea, organic coffee and purified water
-Daily therapeutic movement practices and body-based healing offered in a sacred and inspiring atmosphere (includes an accessible blend of yoga, pilates, mobility training, restorative and relational practices, and meditation)
-Props for practice (2 Yoga Tune-Up massage therapy balls, 1 Coregeous ball (for massage and Pilates), 1 Theraband)
-Traditional Mayan Fire Ceremony led by a Mayan Shaman
-Three excursions with private transportation and lunch:
Explore San Marcos la Laguna and enjoy a tour to learn about coffee and chocolate production.

Visit San Juan la Laguna to learn about traditional woven textiles, traditional medicinal plants, local honey production, and Mayan art.

Travel to San Pedro la Laguna to try your hand at cooking traditional Guatemalan food through a market tour and cooking class.
Cost: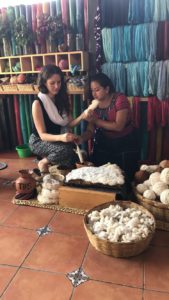 Double Occupancy    $1750.00 USD
Single Occupancy      $2100.00 USD
To Reserve:
A $500.00 US non-refundable deposit is required to secure your spot.
Payment Schedule:
A $700 US non-refundable second payment is due on November 1st, 2019
The remaining balance is due January 1st, 2020
Payments can be made through Jane's website   https://www.seejanemove.com/guatemala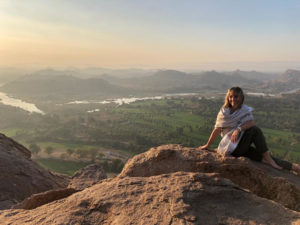 For more information about Jane and Lisa, please visit their respective websites.