Oshun Retreat: Force of Healing with Dee and Kia
October 14 - 20, 2019
In this retreat, we will connect with the forces of Nature through yoga, cultural adventures, rituals / ceremonies and community!
We aim to empower ourselves in order to get back to our center and our true essence!
Let us Grow, Shine and Flow during 6 nights and 7 days in the beautiful Navel of the world, aka Lake Atitlan.
We'll go on an outer and inner journey that helps us to:
disconnect from everyday life

reclaim our authenticity

plants seeds of our true desires

connect and heal
This retreat is a great opportunity to recharge, practice self-care, bond with like-minded people and build a community of support.
More information coming soon.
About the Teachers
DEE LEBORGNE
Dee is a certified massage therapist and lifestyle consultant in Ayurveda, helping people balance their body, mind and spirit. Also a qualified yoga teacher, Dee uses these ancient sciences and her intuitive gift for healing to empower her clients to access their own inner resources and experience self-healing. All her treatments are infused with a touch of energy healing. She is also passionate about creating healing spaces through ceremonies.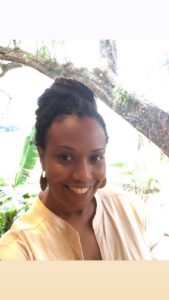 KIA PLAYER
Kia Player is a social entrepreneur and mental health consultant. Her passion is helping women discover and intuitively listen to their inner voice. Ten years ago, fed up with the stress and constant headaches attributed to her job, she made the decision to venture out on her own to create the life that she dreamed of. With an idea and a whiteboard, she mapped out her goals, creating a frame work to help her achieve them.  

A staunch believer in community engagement and a creator by nature, Kia has created a number of businesses that give opportunities to people of color, provide second chances, and bring together people of various backgrounds.  Through her online coaching platform, Be Fearless Me, Kia teaches women to dream big, get clear about their purpose, and manifest the desires of their heart.