The Lake Pole Camp April 2021
April 17 - 24, 2021
Join us for an 8-day holiday of pole tricks and relaxation in Guatemala, where you not only are going to learn from world-class instructors but you can unplug and unwind while enjoying the breathtaking views of Lake Atitlán.
About the Teachers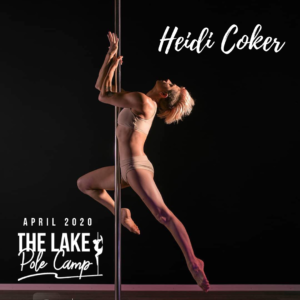 Heidi Coker is a leader in what it means to embody authenticity, positivity and creativity. By standing confidently in her own truth and uniqueness Heidi empowers others to do the same.
Born in Green Bay, Wisconsin to a father who was a national swim and dive champion coach and a mother who was a fitness instructor and coach, Heidi was no stranger to growing up in an athletic environment. Her mom had a softer approach to fitness and fostered Heidi's love of creative movement, exploration and fun at home. This then lead to her introduction into a more disciplined sport of gymnastics from the age of 3 – 21.
Heidi found that within the gymnastics environment, everyone and everything was too rigid, leaving her fighting against the norm by changing her routines and not sticking to what was given. Most of the time Heidi molded her routines into her own creative flair and even ended up choreographing for her peers and eventually her own students.
After watching an episode of Oprah where Shelia Kelly, founder of S Factor, introduced the world to mainstream pole dancing, Heidi began her own journey in pole, and after one class, she knew this was for her.
Heidi believes in being connected to and harnessing inner strength, creativity and uniqueness. It is through exploration that we ignite the courage to embrace who we are!
Heidi is well known for taking powerful moves, adapting them to pole and making them possible. Nothing is impossible to Heidi, its about breaking down the technique and coming up with a format to teach and perform a technically sound move.
Her mission is to empower people to embrace their vulnerability, live with courage, an open heart and to be curious about their potential both on and off the pole.
Marlo Fisken has always been immersed in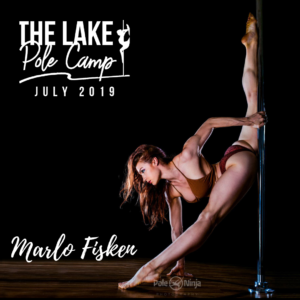 movement. She has studied dance for 30 years and has taught movement professionally for 18 years. She loves leading atypical group movement experiences and is continually exploring how she can lead in innovative and welcoming ways.
Marlo is a graduate of the Virginia Governors School for the Arts (modern dance major) and has a degree in Anthropology and Public Relations from the University of Miami. Over the years, she has accumulated numerous certifications and credentials in the fitness and mind-body realm, but working directly with movement innovators and decades of self-directed study has been the most impactful on her work today.
Marlo is most known for her pole dance accolades and innovations. She started experimenting out of curiosity over 11 years ago before there were mainstream competitions. Pole dance confirmed that there is a magic in moving in circles, abandoning the confines of a mat, slowing way down, and using your full range of motion.
Flow Movement was born out of her desire to share what she understands about fluid movement. She wanted to share the benefits of dance experiences without the things that generally scare people away. Dance doesn't have to be complicated or intimidating, though it too often is. The Flow Movement approach invites all people in and delivers in a way that stimulates imagination, sensuality, connection, and playfulness.
After 10 years in NYC, Marlo now resides in Boulder, Colorado with her partner Kenneth Kao. They travel internationally to teach 6-10 months a year. One of her proudest accomplishments is teaching in 70 countries — visiting many of them repeatedly. It's not that she's traveled that brings her joy, it's that she has built something unique that people all over the world want to experience.
Website:
www.yourpolecamp.com