Breathe the Change / Laurie Ellis Young
January 25 - February 1, 2020
Learn to harness "The Power of Breath" and share it with others!
"Breath is everything.  Yoga will change your body but the breath will change your life." -Seane Corn
You are invited to the magical, Mayan beauty of Lake Atitlan to explore how your ordinary breathing is both AN ART AND A SCIENCE, while harnessing its extraordinary power to transform, individually and collectively.
For many of us, the world seems crazy right now and there is nothing we can really do about it. Yet masters have always told us that if we want to change the world we must begin with ourselves. How we breathe is core to who we are.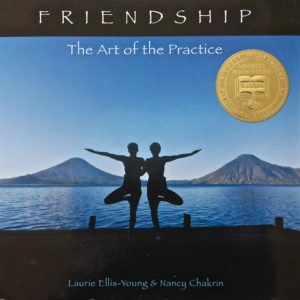 1. Why the "Breath is everything"
a. The Brain, the Breath & the Heart & Our Nervous System
What is optimal well-being? / Exploring stress / ANS, PNS & SNS
2. Cultivating Body Presence
a. Simple Breath Awareness
Watching the breath / Breathing with gentle movement / Following the flow
b. Mindfulness & MBSR Core Practices
Mindful walking in exquisite beauty / Mindful eating / Cultivating the "Attitudes" with breath / Map of Consciousness
c. Practices to Enjoy Inhabiting Our Bodies
Focus on Posture & Grounding / Shaking practice / Various forms of mindful movement / Dancing / Yoga / Qigong
3. Mechanics of Optimal Breathing & Pranayama
a. Anatomy, Physiology, Neuroscience
The lung cavities / Nose vs. mouth / neti pot / Alignment / Chakra System / Liberating & Manifesting Currents / Executive Functions / Negativity Bias
b. Diaphragmatic/Belly Breathing
Laughter Yoga / Rosa-mystica Meditation / Kapalabhati—Fire breathing / Singing & Chanting / Creative license
c. Complete Breath Breathing
Breath Geometry / Square Breath / Rectangle Breath / Triangle Breaths / Relaxation Breath / Breath as "Seasons"
4. Deepening the "Power of Breath"
a. Additional Breathing Practices
Alternate Nostril Routines / Emotional Breathing Practices / / Locks (Bandhas) / Heart Breath / Tonglen
b. Reflections
Breath as connector / Who & How do we want to Be in the world as an individual and a collective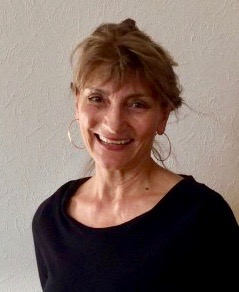 Laurie Ellis-Young, MTC, SYT (Senior Yoga Teacher, UK Yoga Alliance) is a global citizen, eternal student, and avid adventurer who has traveled to over 80 countries and facilitated groups to 20+ countries.  Leading treks in the Nepal Himalayas first impressed Laurie with our breath's magnitude.  Experiences working with diverse populations on five continents convinced her that breath practices transform people's lives.  As founding director of Breathe The Change LLC and co-founder of the non-profit BreathLogic®, Laurie has pioneered breath literacy as an empowering, peace-building and healing modality for over two decades.
A speaker, author, yoga teacher, MBSR instructor, Shift Peace Ambassador and co-creator with photographer Nancy Chakrin, of the traveling exhibit "Yoga: On and Off the Wall, she nurtures the heartfelt vision and mission of helping implement breath practices worldwide. Finding that people everywhere are hungry for knowledge about their breath, Laurie has taught or presented in wellness centers, hospitals, clinics, community centers, corporations, schools, universities, governmental and nongovernmental organizations (NGOs), and at conferences about arts and heathcare, brain injury, cancer, conflict resolution, education, kindness, leadership, and holistic nursing, among others.
Laurie teaches with an eclectic, fun, meditative approach drawing from over forty years of study and practice. Her book, Breath is Life, and children's book, Breathe in the Sky, Breathe in the Sun will be published in 2020.  Knowing trees are the lungs of the planet, Laurie is impassioned with preserving rainforests and planting trees. She and her husband, George, (although currently based in Kiev, Ukraine) maintain a small reforestation project on Lake Atitlan. BreathLogic.org 
Price: $2,400 with $500 non-refundable deposit (In case of unforeseen emergencies $250 may be applied to other trainings)
(Scholarship discounts may be available)
Please inquire about an optional add-on to Antigua and Tikal Feb 1-5
For further information and to register contact Laurie at Laurie@BreatheTheChange.com
What's included:
All practices, teachings, routines and the "Power of Breath" comprehensive teaching manual
Gentle and Vigorous Yoga, "The Five Tibetans" and "The Lotus Practice"
One personal session for individual consultation
Completion certificate
Double accommodations (triple accommodations may be available for a discount & super-luxury accommodations for an extra fee)
Transportation to and from GUA
3 Scrumptiously delicious vegetarian meals a day (fish or chicken may be requested for an additional fee)
Sacred Mayan rituals
Hiking
Special connections with locals
Serendipitous surprises

One lake excursion

All taxes and tips


Unlimited tea and water
Not included:
Round trip airfare to GUA

Specialty drinks or snacks

Spa services

Internet

Shopping 

From the manual, THE POWER of BREATH—TEACHING A WORKSHOP A -Z:
"Your life does not get better by chance, it gets better by change." – Jim Rohn
FORWARD… Message from Laurie:
Welcome to a training that will change your lives.  And also help you to help others change and improve their lives.  Why do I say this?  BREATH IS LIFE! When you transform your breath, you transform you life: physically, mentally, emotionally and spiritually.
Over the years I have continued to be so impassioned by how the breath —awareness of the breath and breath practices —  have transformed my own life and hundreds of thousands of others all over the globe.  I surmise that you are in this training because you have similar feelings and you desire to be part of an outreach to millions.  Everywhere, people in all walks of life are hungry for this knowledge that used to be kept secret and now is accessible.  There is a modern science of breath that is substantiating the ancient science of breath by exploring and validating the vast healing potential of our human respiratory system.  Our aim is to educate about this science and teach a way to breathe and be that will cultivate greater peace, harmony, health and wellbeing for everyone.
Regardless of our race, religion, age, gender, politics, strength or flexibility, we all breathe. What is so ideal is that we are breathing all the time.  So just by learning to become aware of our breathing and to breathe in a more optimal way we expand our capacity for life-force to flow more freely in our bodies.  We gain more energy, vitality, passion, courage, patience, focus and peace.  We become more lighthearted and laugh easier.  Thus we enhance and empower our lives.  We take this out into our relationships, our work places and into the world at large.