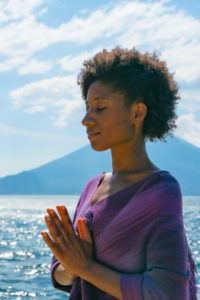 Dee is a certified massage therapist and lifestyle consultant in Ayurveda, helping people balance their body, mind and spirit. Dee hails from Paris, France and is fluent in spoken English.
Also a qualified yoga teacher, Dee uses these ancient sciences and her intuitive gift to empower her clients to experience self-healing.
All her treatments are infused with a touch of energy healing.
Testimonials:
My week long Ayurveda retreat led by Dee was so much more than an introduction to Ayurvedic practices.  Under her skilled guidance I was able to gently self-examine and begin to reacquaint myself with spiritual and emotional connections I had been ignoring for some time.  In our small group of 3, our days were full of learning, adopting a healthy daily routine, beautiful morning yoga classes, ceremonies, dancing, painting and laughter.  Dee's Ayurvedic massages were therapeutic and helped me with specific issues with arthritis in my knees and hips.  I feel blessed that I chose this retreat – Dee led every moment with such great care and thoughtful intention.  Her vast knowledge of Ayurveda and years of practice steeped the entire week…all the teaching moments, side conversations and therapeutic sessions.  I am so grateful I started 2020 and the new decade in this way, thank you for everything Dee.
~ Larissa (Ontario, Canada)
I just want to say my girlfriend and I had an amazing time at Villa Sumaya. From the food, to the staff, the beautiful property with amazing lake views and beautiful sunsets. We did an Ayurveda yoga retreat with Dee. Dee was first class in her methods of teaching and just had a way us from the beginning. She got me to open up in ways I never have before and to basically peel back layers necessary for progress in our relationship. Not to mention her Ayurvedic massages are to die for! I definitely will look forward to going back soon. It's the perfect place to rest, reset and gather your thoughts in today's busy world. Special thanks to the Villa Sumaya team for an unforgettable time.
~ Justin
Hi Dee, Thank you, thank you, thank you for one of the best weeks of my life. You were like an angel in disguise coming into my life at this time. I have been so unwell for so long, I had forgotten what it was like to get the body moving again.
Thank you for your patience, love your passion for the Ayurveda system. You are a fantastic teacher with such compassion and non-judgement. I couldn't have had anyone better than to prepare me for the next part of my life's journey. Love and Blessing.
~ Serena
Dee, thank you very much for these yoga pranayama, it was a very rewarding experience, it helped me a lot in recent times where I made many discoveries about myself , especially on an energetic level; and your course helped me to accept things, to drop my barriers and my blocking, I discovered more in relation to the Earth and Heaven; thank you for everything <3 Also, thank you for your advice on my back , it 's much better =)
~ Julie
Oh my goodness Dee, I'm home and going to try implementing what I learned from you in my daily life. i wish I had you by my side everyday!! I really believe what I learned from you can be a big impact on my life. Of all my services at Villa Sumaya, my favorite was with you. I felt a good connection with you and you are so smart !!!!!! 🙂 I've tried explaining what i learned from you to my husband so he is on board to help me too.  Starting with a warm glass of water with ginger before coffee!! Thanks Dee.
~ Linda
I spent 7 nights in Villa Sumaya with Dee for an Ayurveda Retreat and it was one of the most transformative and healing experiences of my life.  It was far beyond what I had expected when I signed up for the program.  Dee carefully crafted the program with so much thoughtfulness that she created it around my healing needs.  Along with assessing my constitution she also provided a great background on the principles of Ayurveda and how I can apply it to my life as I go through my healing process.  She also curated daily yoga classes themed around the five elements with each one helping you connect with you inner energy.  She provided treatments for every dosha that were just beautifully set up against the beautiful Lake Atitlan setting.  It was breath taking and more importantly the treatments left you feeling relaxed and more open.  You can feel her healing energy in each one.The program closed with sound healing and cacao ceremony to help me align with my true purpose.  Dee, my time with you has been so therapeutic.  You've paved a path for my healing.  I am forever grateful for you and this wonderful experience.  May you continue to share your light with others.
~ Maureen