In Sanskrit, Sumaya means a long-awaited dream come true, while in Arabic it translates as a little piece of paradise. Both of these definitions mirror our hearts' intentions and inspire our service. Our logo is a Mayan glyph found in Chiapas, Mexico representing the fountain of life or the budding growth of a flower, and this too moves us ever forward.
Villa Sumaya, located in Santa Cruz la Laguna on the shores of Lake Atitlán, was conceived in 2001 with the purchase of the lakefront Maya Rose House, originally the vacation home of a Guatemalan family. Over time, in addition to renovating the Maya Rose House for style and comfort, we added a restaurant, a boutique shop, our welcoming courtyard, a hot tub and a sauna, as well as four healing huts where we offer a wide variety of spa services.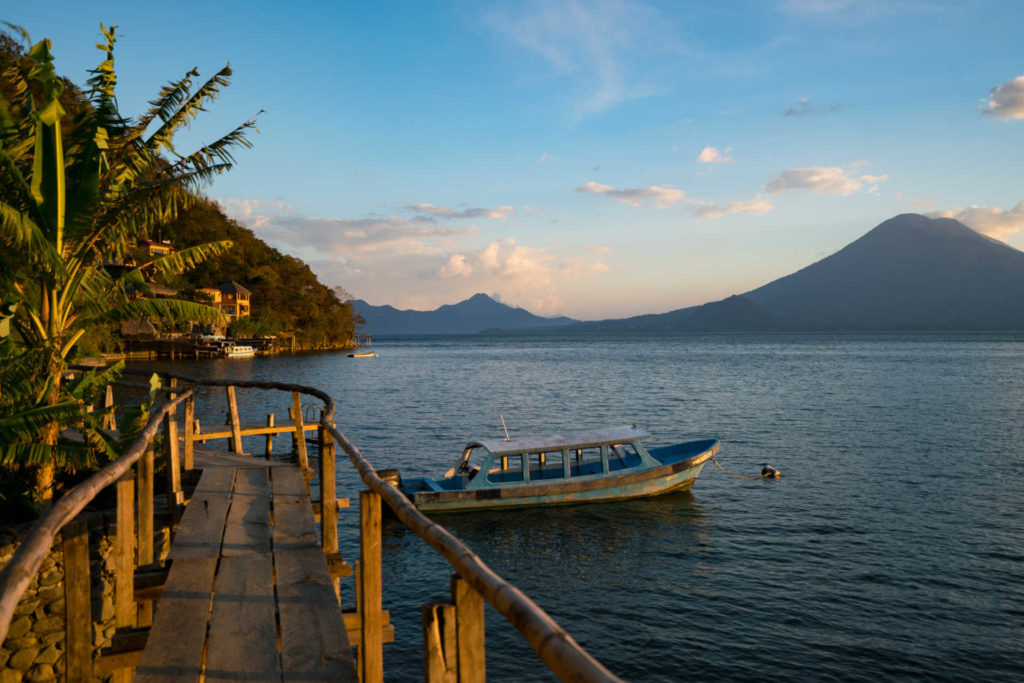 In 2004, we built the Blue Tiger Temple to reflect the new focus of Villa Sumaya as a retreat center. At that time, we also constructed two hillside bungalows to offer private housing options. As Villa Sumaya flourished, the need for more rooms and a second temple/studio led to the creation of Lotus House, completed in 2007; this project added six spacious guest rooms and our magnificent Tara Temple with breathtaking views of the lake. In 2008, we built a swimming pool so that our guests could enjoy a relaxing dip throughout the day. In 2013, higher up on the hill, we created the Ginger Suites, our most luxurious accommodations.
In 2015, we further expanded by purchasing adjacent land, which allowed us to connect the hotel with our Eco Sumaya Fruit Forest and gain access to an additional 19 acres of lakefront. We also acquired Studio 21, Skyline Bungalow 20 and our Mayan Healing Hut. In order to accommodate our growth, we expanded our dining area in 2016 to include a glassed-in dining room showcasing panoramic views of the lake. At full capacity, our current facility offers 23 rooms accommodating up to 50 guests.
Many Mayan hands have contributed to the creation of this paradise and our ongoing connection with our indigenous neighbors has been mutually respectful, rich and gratifying. Everything you find here – every brick, every paving stone, every piece of window glass and decorative tile — has been lovingly transported to Sumaya by boat and then carried by hand and strong back to its respective location. We are beyond grateful to everyone who has participated in this great feat of endurance and dedication.
It is our sincere desire that your experience in this natural refuge will enhance your lives as much as it has ours.
We are located on the shores of Lake Atitlán
Villa Sumaya is 10 minutes by boat from Panajachel. Public boat transportation from Tzanjuyu ("san-who-you") dock is available every half hour from 7:00am to 7:30pm. The price is about Q25 per person ($3.00). Ask the boat driver to drop you off at the Villa Sumaya dock, otherwise you will have a 20-minute walk from the main Santa Cruz dock.
Villa Sumaya works exclusively with our trusted transportation company, Kan Tours. Contact them to arrange private shuttles or boats for your convenience, 24 hours a day. Private boat and shuttle fees can be added to your hotel bill.
Transportation is not included in our rates. Our Guest Welcome Kit provides helpful information covering transportation, activities, pricing, spa services, packing lists and more.
© 2023 Villa Sumaya All rights reserved