Ignite Change: Find Inner Peace and Harmony in Guatemala / Daemond Mano & Jeri Tourand
January 20 - 26, 2024
Discover your bliss, revitalize and get inspired for the next phase of your life at this 6 night and 7 day transformative retreat!
Is your soul calling you to take space to reset, rejuvenate and reconnect with yourself?
Are you ready to end the inner battle and connect with lasting peace and harmony?
Are you on a journey of self-discovery and looking to deepen and expand your spiritual and meditation practice to live a more inspired and meaningful life?
You will be encircled in the natural beauty of Villa Sumaya at Lake Atitlan; breathtaking panoramic lakefront views and embraced by 3 majestic volcanoes!
Your presence is needed to actualize the role of 'being the change" and bridging the gap between Heaven and Earth for yourself, your family and the world.
Activations~Meditations~Excursions~Trilotherapy~Breathwork~Cacao + Fire Ceremonies ~ Ho'oponopono
To Register and for more information:
RESET by taking a break from every day life and gain clarity around your purpose and direction. Improve your mental, physical and emotional well-being
FREE YOURSELF with a variety of transformational tools to help you learn to live more freely and unconditionally
NOURISH YOURSELF with delicious, wholesome food, swims in the lake/pool, hot tub and sauna, breathwork, qi gong and meditation
COMMUNE with NATURE to reconnect with yourself and allow the exotic plants and animals to teach you how to live a more balanced, unconditionally loving and cooperative/ co-creative life
HEAL and RELEASE trapped emotions, old wounds and limiting beliefs. Rewire your mind's conditioning to sync up with the vibration of your Soul
CENTER YOURSELF in the truth of who you are through grounding practices, meditation, and mindfulness
EXPAND energetically while you experience a new culture and activations of truth and love through sacred ceremonies
AWAKEN and SEE life with "FRESH EYES":
* New places and people awaken our senses, create new experiences and memories, and change our perspective on life. How can we use this experience to see our own lives with "fresh eyes?"
CONNECT DEEPLY with who you really are and learn to truly 'see' others.
TRUST yourself and know that you are guided as you hone your partnership with Divinity.
GAIN CLARITY & DIRECTION moving forward in your life with newfound ease and flow
EXPLORE the Mayan culture & traditions, pristine lake and volcanoes, lush gardens, permaculture farm, waterfall hike, and the famous Chichicastenango Market
EXPERIENCE the culture, history, healing arts and crafts in the Villages around Lake Atitlan
COME HOME to yourself in Guatemala then return home with a clean slate ready to be filled with new experiences that excite you and are deeply aligned with who you are.
INCLUDES:
3 wholesome and delicious vegetarian meals a day (chicken & fish extra)
7 nights deluxe accommodation at the enchantingly beautiful Villa Sumaya at Lake Atitlan
Experiential Sessions each day in the sacred temple: Meditation, Breathwork, Trilotherapy, Ho'oponopono, Qi Gong, Dance, Truth Activations, Celebrations and more
2 magical Ceremonies: Mayan Fire Ceremony & Cacao Ceremony
2 wondrous Excursions: Chichicastenango Market & Tzununá Farm Tour & Easy Waterfall Hike
Unlimited coffee, tea and purified water
Breaks for swimming, hiking, spa treatments, Kayaking & Paddleboards
Breathtaking views, lush gardens, hikes, hammocks, and boutique on this luxurious property
Love, laughter, healing and support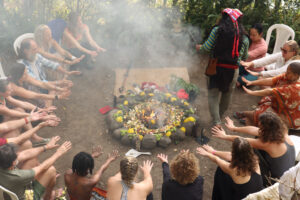 Mayan Fire Ceremony
In traditional Mayan day-count fire ceremonies, beautiful offerings are created and consumed by the fire, invoking awareness and connection with all that is. The Maya remind us to dwell in the innocent heart of the child, prompting us to leave behind our busy minds and conditioned concept of self.
Cacao Ceremony
In the spirit of the ancient traditions, this sacred circle and celebration centers around the sharing of a cacao elixir, known as the "food of the Gods" to connect with your hearts. Be warned: your heart will expand beyond your imagination, leading to pure bliss, laughter, joy and allowing more of who you are to shine through.
Chichicastenango Market
Visit one of Guatemala's most famous marketplaces, known for its colorfully and brightly dressed Quiche Maya. Starting with a short boat ride to Panajachel, you will be picked up by a private van and drive for an hour through the Mayan highlands, passing through fertile countryside. In Chichi, browse through the marketplace for handicrafts, candles, flowers and incense. This is the place to find that special keepsake or simply enjoy the action of this highland town on market day. (Thursday 9:30 a.m.-2:00 p.m.)
Tzununá Farm Tour & Waterfall Hike
Take an inspiring tour of two working permaculture farms in the Mayan village of Tzununá —Atitlán Organics and Duck Willow Farm—followed by a 30-minute hike (medium difficulty) along a sparkling stream to a refreshing waterfall. Take a brisk shower under the waterfall if you like. Be sure to bring your camera for all the photo ops!
The package does not include:
Flight to Guatemala (GUA) from your hometown
Tipping to local guides and hotel staff ($7-10 per person per day)
Alcoholic beverages or other personal expenses
Chicken or Fish added to your meals
Exceptional Extras: Full-service spa offering massage, facials, consultations, esoteric readings and more, Juice Bar with raw snacks, exotic smoothies and homemade Kombucha, kayaks, paddle boards, sweat lodge, Fair Trade Boutique with custom designed Eco Sumayan crafts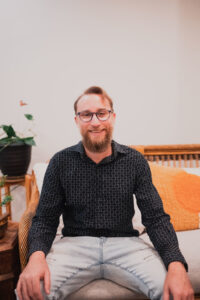 Daemond Mano
YogaMcc owner and integrationist since January 2019. Daemond grew up in Calgary, but he is a traveler by trade, having visited over 30 countries in his life. One of his favorite things to do is understand how other people live on this earth. Like most of us, he has often wondered why we are here. Daemond has sat with Monks in the Temples of South East Asia and has spent time with Aboriginals in Australia learning about Dreamtime. He has journeyed with Shamans in Central America and created concoctions with witch doctors in Africa. He has read and researched much in the vein of spirituality and science and connections between the two, a field called Epigenetics.
Daemond is also very passionate about building community and safe containers for seekers to grow into their highest vision of themselves. For him this all starts with a foundation of friendship. Daemond's primary practices are Meditation and Breathwork. He is certified to teach Clarity Breathwork, Numa Breathwork, and has studied breathwork at the Omega Institute in New York. He is also certified to teach Active Meditations from Osho Humaniversity in Holland, Systemic & Family Constellations, and was given permission to teach the life's work of Zen Master Nissim Amon, a modality called Trilotherapy, which includes Zen Buddhist meditation. He also enjoys integrating sound into his offerings and is certified by Jonathan Goldman in sound healing. He's very passionate about sharing all these tools with the humans around him that feel called to explore the depths of who we are.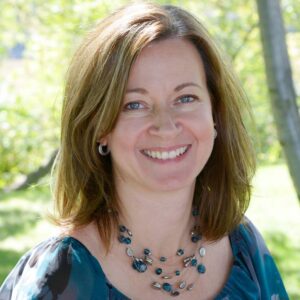 Jeri Tourand
Jeri is an Unlimited Love Coach, Best Selling Author, Speaker, Zen Trilotherapy Practitioner and Trainer. She is the founder and head facilator of "Living from Heart Center" helping people awaken to unconditional Love and authentic self-expression! Jeri's mission is to assist people in awakening to deep truth and remembrance of the Divine Love that they are, inspiring them to live life to the fullest, and courageously express their highest potential and truest nature. She has gained massive clarity over the years and moved through huge obstacles to become who she is today; assisting to awaken others with the truths that have transformed her. Jeri is able to coach people to work through their fears, open their hearts, bring clarity and awareness to their lives, and assist people in creating the life they dream about. Through life changing teachings and awakening experiences, Jeri's clients often have a true spiritual awakening and gain the tools they need to live a happy, fulfilling life. You are the one you've been waiting for. Working with Jeri, you can come to a place of inner peace and true happiness, thus leading the change for a better future for ourselves and our children…one of unity, peace and love. The time…is NOW.
TESTIMONIALS
Jeri and Daemond are lovely and loving teachers that kindly guided us during very intensive processes with such peace and compassion. I respect their experience and knowledge and was honoured to learn from them and also have fun with them! I would recommend this retreat to others. My experience in Panama with Jeri and Daemond was transformative. I returned cleansed, calm, and smiling, feeling informed about myself and full of love. ~ Stella A.
I got and overall feeling of groundedness that I took home with me and I continue to cultivate though the practice of qi gong, mediation, self-love, forgiveness of self, and others. I have the upmost respect for Jeri and Daemond. Absolutely, I would recommend this retreat to others. It helped me unblock some deep seated traumas. ~Tony R.
I wish for everyone who is hurting, expanding, wanting more out of life, healing, or wanting an open heart, to come to this and be prepared to transform their life. ~ Danielle
I highly, highly encourage this for those who are searching for healing and change in their lives. Loved it! ~ Wendy, Edmonton
INVESTMENT in yourself:
Space is limited and we do expect to sell out.
$500 deposit can reserve your spot.
Payment Plans available – please inquire
Contact us to REGISTER or for more information: Livingfromheartcenter@gmail.com
dae@yogamcc.com
TRIP PLANNER will be e-mailed to you following registration with details to assist you with packing and preparation.