Inner and Outer Exploration / Carley DeMarco, Alexa Batt & Sammi Levin
May 4 - 11, 2024
On May 4, journey to the magical Mayan mountains of Lake Atitlán, Guatemala for a 7-day journey of inner and outer exploration.
Designed to help you disconnect to reconnect with yourself, nature, and community—this retreat will be a transformative recalibration.
Bask in the sun, bathe in fresh water, and soak in a new culture and breathtaking landscape. Enjoy daily yoga, meditation, breathwork, and creativity. Take part in traditional Mayan spiritual ceremonies and explore the sacred land with local guides. Share deeply nourishing meals and conversations with a group of amazing and inspiring humans. Slow down to connect back with yourself and this beautiful world.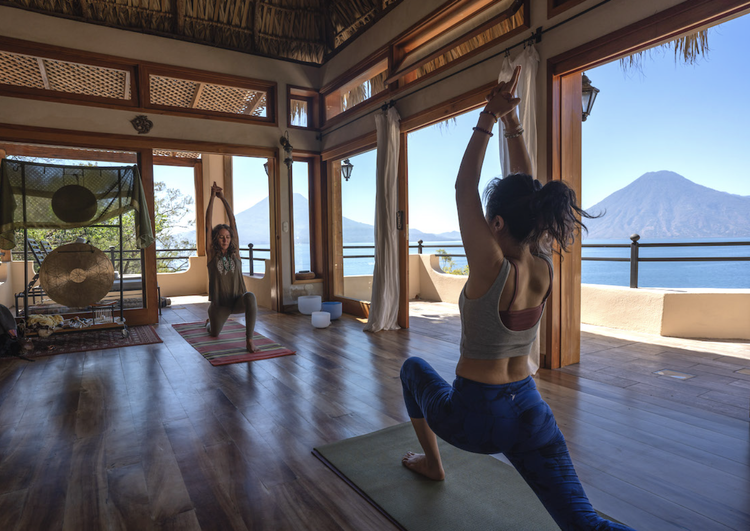 WHAT'S INCLUDED
7-night Accommodations
Daily yoga, breathwork, and meditation
Daily journaling, self-exploration, and creative time
3 healthy and delicious plant-based meals daily
1 hr massage
2 Traditional Mayan spiritual ceremonies
Locally guided hike
Workshops on personal growth, spirituality, and wellness
Community of amazing & inspiring people
Daily dips and sunbathing
Unlimited use of pool and solar hot tubs
NOT INCLUDED // OPTIONAL BONUSES
Extra spa treatments
Extra excursions
1-on-1 coaching/guidance session for personal growth, wellness, entrepreneurship
Alcohol and snacks
Travel Insurance
Airfare and transportation (we can help with this!)
The Investment
Triple Occupancy Room:  $1900 before 9/1 – $2100 after 9/1
Double Occupancy Room:  $2299 before 9/1 – $2499 after 9/1
Single Occupancy Room:  $3100 before 9/1 – $3300 after 9/1