Intuitive Painting: Discovering your Inner Artist
with Jorinde Gundula Nisse
Package Dates
Intuitive painting is a powerful path towards self-discovery and allows us to explore the intricacies of human emotions: where the head, heart and belly come back into contact and balance.
Perhaps your own creative breakthrough is right around the corner?
Join Jorinde and experiment with a fun and open-hearted sense of adventure – without censorship or pressure to perform. She will share her deep knowledge and rich experience gained from many years of artistic practice, teaching art, studying psychology and cultural studies. Jorinde will guide and support you on your journey.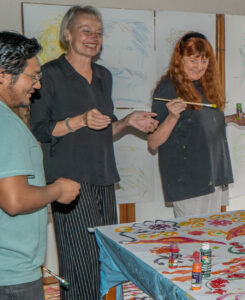 Rediscovering Creativity
Many people, children and adults alike, have given up their creativity to others and lost confidence in their own abilities. However, as humans we are undoubtedly born with a vast and amazing ability to create, which has been a basic part of human survival on this planet. With time, while the world became more industrialized, the focus on these abilities faded.
Yet the world is changing once again: creative thinking and living have become indispensable tools in every field imaginable. It therefore comes as no surprise that many people are feeling the need to engage with their creativity. They are being drawn to rediscover their original playful lightness.
This program is designed to help people create a more fulfilling, beautiful and alive relationship with themselves and others.
What's Included
7 nights of deluxe, single accommodation

Daily vegetarian meals and beverage services

One-on-one or small groups of 2-6 participants 

Daily workshops 9:30 am – 1:00 pm (15 total hours of class time)

Art materials

All taxes 
Not included: transportation costs, tips to Villa Sumaya staff, optional tours & activities
Additional notes:
Any of your personal art supplies are welcome
Please bring your favorite paintbrush and an apron
No need to be an artist!
Rates & Registration
Pricing: $2099 single in deluxe accommodation / $1799 per person in deluxe double accommodation
This retreat is offered in January and February 2024. Contact us for specific dates & availability.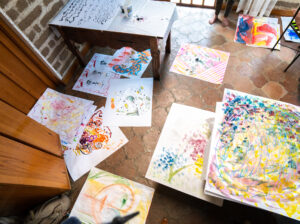 I took Jorinde`s workshop on a whim, having absolutely no art experience. Not only did I surprise myself by creating pieces I liked enough to hang on the wall, but some life memories were accessed that I had totally forgotten. It was a most enlightening experience.
 –Susana Mayer
Leader