Journey Into Sacred Expression Women's Retreat / Aimee Hansen
December 9 - 18, 2023
Rise from within and together with this Lonely Planet recommended women's writing retreat in a luxurious space on Lake Atitlan. Breathe and relax into lakeside comfort as we gather for a magical and soulful week beneath the watch of volcanoes.
Join a very intimate sacred circle of women in the spirit of reclamation for a creative inner adventure through meditation, yoga, movement, magical ceremonies and self-exploratory writing at Villa Sumaya in Santa Cruz, Guatemala.
You are invited to take a brave and honest journey into your center to connect with your intuition and express from your core. To unravel the ways you have learned to limit or deny yourself. To trust, embrace and truly value your raw embodied presence and your truest soulful desires. Within each of us is the call to open our hearts, step further into our courage, expand our self-acceptance and animate our own sacred expression.
Retreat highlights
Intimate Women's Gathering: Only 12 spaces available.
Inspiring lakefront location with expansive volcano views
Daily guided meditation & yoga/movement practice
Two intensive self-exploratory writing circles on most days
Scenic lake-side thatch-roofed yoga temple & writing space
9 nights stay in shared or private accommodation
3 delicious organic vegetarian meals/day and juice bar
4+ sacred healing ceremonies (eg. Mayan Fire Ceremony, Sound Healing, Movement, Sauna Ceremony)
Solar hot tub, on-site spa services, pool, sauna, jacuzzi
Breaks for swimming, hiking, kayaking, SUP, therapies, relaxing
Optional excursions (village tour, outdoor adventure)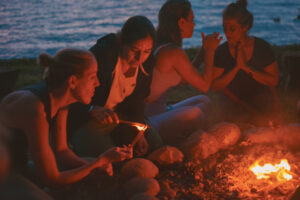 Journey into sacred expression
"A circle of women may just be the most powerful force known to humanity. If you have one, embrace it. If you need one, seek it. If you find one, for the love of all that is good and holy, dive in. Hold on. Love it up. Get Naked. Let them see you. Let them hold you. Let your reluctant tears fall. Let yourself rise fierce and love gentle. You will be changed. The very fabric of your being will be altered by this, if you allow it. Please, please allow it."- Jeanette LeBlanc
Set out on a transformative creative and powerful journey through daily meditation, yoga, movement and self-exploratory writing as a channel to reveal insight from within. Participate in diverse healing ceremonies that awaken your feminine energies and stoke your soul connection.
Breathe, stretch, relax, and align with your center while immersing in the experience with other women. This retreat is not about 'writing' as a subject or art form. In this retreat, we ourselves are the art form. Every woman has a voice in her own life that calls her – we are gathering together to raise it up, embrace our wholeness and allow our self-expression. When we stop chasing our worth, allow our essence and share our gifts from divine desire and inspired action, we are invited into a great adventure in life.
Infused by the four shamanic directions and rising the feminine, we embark on a revealing week of re-igniting the voices of our hearts and empowering ourselves as the fluid storytellers of our lives.
In this women's retreat, you will:
Gather with a powerful circle of women in rawness, vulnerability and expression.
Ground in your body and intuition through meditation, yoga and movement.
Show up in this here and now, present to whatever is real to you, as you are.
Honor and be witnessed for your embodied experience as a woman.
Immerse in a journey that is both individual and collective to you and to the circle and to women.
Reveal your truths moment to moment by connecting to your own inner voice.
Embrace yourself in all of your contradictions and wholeness.
Loosen the stories you tell against allowing yourself and your expression, in the many ways we tell them.
Reconnect with your essential self, your vivid energies, your heart-led and soul-seeded desires – all that conspires for your expression.
Call back your inner voice to hear what sways your soul.
Reclaim your connection and belonging to the greater mystery and beauty all around us.
Remember the magic that unfolds when women circle together with love and compassion at our core.
your facilitators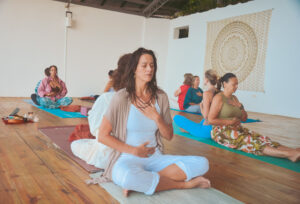 Aimee Hansen, creator of Storyteller Within Retreats, chases big questions with butterfly nets, only to set them free again. She's always had an irresistible attraction to words and metaphors as a way of playing, provoking, revealing, exploring, understanding and connecting. Her work explores the power of stories and invites a creative and playful adventure in the yoga of perception. She trusts in the mysterious sways of our hearts and the truth in our bodies, listening to what lights us up from within and moving, again and again, from this knowing.
Aimee works as a freelance writer in leadership, is editing a spiritual odyssey novel, and dances with the muse at poetry. She is presently co-creating a retreat-based journal for publication in 2024. She is inspired and humbled by witnessing how something raw and honest in the human spirit aches to open, given the invitation. She began Storyteller Within retreats to share in the experience of exploring our humanity and stepping into our courage and vastness as women.
Aimee is based in Guatemala and has co-created and facilitated this retreat with over 200 women since 2015, across 23 different events in Guatemala and further events in the U.S.
Robin Kempe is a Guatemalan based esoteric conscious yoga teacher, who weaves seamlessly with Aimee. She combines her deep knowledge of transpersonal shamanic principles, anatomy and physiology, yoga philosophy, mindfulness and pranayama with dynamic hatha flow postures, intuitive energy healing, sound and the power of storytelling to ignite the fire within, open the heart and help us to return back home to wholeness, peace and love.
Aimee will also bring in several curated guest movement & ceremony facilitators offering magical sessions to expand and weave our journey together.
what women have to say
"The power of this circle still gives me tingles. It is the power of togetherness, of shared adversity & joy. Of shared accomplishments and trials. Of reaching deep and sharing our own heart song. Of looking in each women's face and knowing we belong." (Maggie)
"Our Storyteller Within retreat on Lake Atitlán in Guatemala felt like a week in paradise. During writing circles we explored our inner most desires, re-wrote personal stories that didn't serve us, and let ourselves be truly honest. Aimee is an amazing facilitator with a stunning ability to inspire and affirm. This retreat has undoubtedly changed the trajectory of my life–I could not recommend it any more highly." (Mary)
"My experience of this retreat was nothing short of magical. I shed toxic stories that held me captive for far too long. I rediscovered parts of myself that were buried somewhere within for indeterminate amounts of time, and even discovered aspects of myself that I never knew existed. I spoke truths that I previously never dared. I danced, stomped, howled at the moon, cried, felt alive in ways I didn't know were possible, profoundly connected to myself and other beautiful women, and emerged with a light inside of myself that continues to shine brightly." (Ellen)
Praise
The Sacred Expression Women's Retreat has been listed among the top 'Incredible Writing Retreats to Attend' for six years in a row by The Write Life. This women's circle event is one of 17 "Inspired" global offerings featured in the Lonely Planet Wellness Escapes travel guide – for experiences that combine creativity, personal growth and culture.